Two teachers from Rockland County were awarded the "My Favorite Teacher" title in a ceremony at Barnes & Noble at Palisades Center.
Teachers Sarah McMane of Tappan Zee High School and John Kline from Norwood Public School were named the local winners of the Barnes & Noble My Favorite Teacher Contest. McMane was nominated by senior student Alexandra Natale while Kline was nominated by eight-grader Seojung Choe.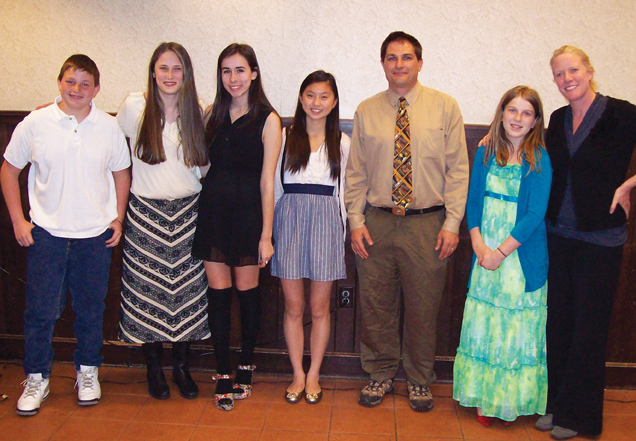 Left to right: Eighth-grader Matthew Haggerty of St. Paul's School in Valley Cottage, whose essay on teacher Paul Lepore of Felix Fiesta Middle School (not pictured) received an honorable mention; winning teacher Sarah McMane, English teacher at Tappan Zee High School, and her nominator, Alexandre Natale; winning student Seojung Choe and teacher John Kline of Norwood Public School; sixth-grader Tiffany Linardi of Willow Grove Middle School whose essay about teacher Nancy Donohue received an honorable mention.
Area students in first through 12th grade were invited to nominate their teachers by writing essays, poems, or thank-you letters that shared how their teachers had influenced their lives and why they appreciated and admired these individuals. Entries were judged on the compelling nature of the teacher's qualities, the sincerity of the student's appreciation, and the quality of expression and writing. Judges included our own Alison Reiser, editor of Rockland Parent (a division of NYMetroParents); Angelo Parra, local author and playwright; and several Barnes & Noble employees.
The winning teachers were honored at an awards ceremony at Barnes & Noble at Palisades Center on April 19. McMane and Kline each received an award along with a set of Sterling Classics books for their personal or classroom libraries. The students who wrote the winning essays were honored at the ceremony as well, receiving certificates of recognition.