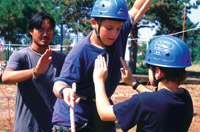 CLICK HERE FOR OUR MOST RECENT GUIDE
Find day camps and traditional summer camps in the Rockland County, NY area, plus specialty camps that offer specialized programs in sports, theater, music, fashion, academics, and more. There are plenty of camps to choose from in New City, West Nyack, Pomona, Suffern, Pearl River, Orangeburg, and throughout the county.
DAY CAMPS
BLUE BIRD NATURAL CHILD CARE
5 Balmoral Dr, Chestnut Ridge
(845) 598-5970

We are celebrating fifteen years providing childcare and after school care for children 2 years and up. We are NYS licensed and insured with a clear mission of providing a natural, media free place for fun, learning and adventure. Our outdoor space encourages children to be in touch with nature, offering gardening and a large playground. All meals are vegetarian and certified organic. No sweets are allowed. Instead, kids get fruits and vegetables and even peel their own apples. Programs provided year round, including summer months.
444 Saddle River Rd, Airmont
(845) 352-3521
BLUE ROCK SCHOOL
110 Demarest Mill Rd, West Nyack
(845) 627-0234

Summer Play at Blue Rock School is a relaxing, enriching place for your child to spend summer days with a talented veteran staff. Children ages 3 through 10 explore art, drama, games, woodworking, reading, sports, nature and water play on 3 acres of wooded property. Five weeks: June 27-July 28, Tuesdays-Thursdays (Monday optional), 9:30am-2:30pm.
CAMP PEQUOT/CAMP SHERWOOD
Ivoryton, CT
(860) 767-0848

Located in coastal Connecticut, on 700 wooded acres surrounding a mile long private lake, Incarnation Camp is the country's oldest co-ed camp. Since 1886, we have provided a fun-filled, traditional camp with hands-on learning and group living in the great outdoors. Our camps include: Pequot for boys, Sherwood for girls, and Pioneer Village for teens. Our camps are amazing places to spend your summers-there is nothing quite like the bonds you build with your camp friends as you experience the adventures of summertime together. Campers participate in well-rounded and adventurous programs.
CAMP RAMAQUOIS
30 Mountain Rd, Pomona
(845) 354-1600

Camp Ramaquois, "A day camp as complete as sleep-away camp," situated on 44 acres in Rockland County. From adventurous activities to creative arts and athletic activities, boys and girls, ages 3-15 experience a traditional day camp program filled with a variety of stimulating activities. Facilities include a 5-acre crystalline lake, eight heated swimming pools, a splash park, tennis, basketball and volleyball courts, hockey rinks, ball fields, soccer fields, a petting zoo, special events, and more. Many air-conditioned buildings. Visit us on our website or call for a personal tour.
CAMP YOMI & YOMI SR.
450 West Nyack Rd, West Nyack
(845) 362-4400 x173

JCC Rockland partners with the 92nd Street Y to offer campers a wide range of recreational activities and firsthand nature experience at the beautiful Henry Kaufmann campgrounds in Pearl River. Kids enjoy swimming pools, nature trails, ball fields, basketball courts and much more! Our first-rate facility includes a ceramic studio, amphitheater, computer lab, playgrounds, Lego Loft, ropes-challenge course, and our very own fire engine. Watch out for Wacky Wednesday theme days and our Visiting Artists Series program. Flexible registration and the best value in the area.
CHAMPION DAY CAMP
175 W. Clarkstown Rd, New City
(800) 755-1004

Champion Day Camp is a private facility located in Rockland County, serving boys and girls ages 3 to 15. Transportation, lunch, towels, shirts, and more are included in the program. The All Activity Day camp includes swimming, arts, sports, ropes, special events, electives, and more. The All-Sports Academy includes coaching and instruction in sports including baseball, basketball, flag football, golf, soccer, tennis, and street hockey. There are daily elective and concentrations on particular sports. We are an ACA accredited camp.
DEERKILL DAY CAMP
54 Wilder Rd, Suffern
(845) 354-1466

Deerkill Day Camp, celebrating over 50 years under the Rhodes family, is a traditional day camp located on 15 beautiful acres in Suffern. Our group leaders are all college graduates and our superb swimming program and extensive specialty program are taught by professionals. We have ample indoor space for rainy day programs. Hot lunches, trips, towels, free weekend club and other "extras" are all included-there are no hidden costs and tipping isn't allowed.
DWIGHT-ENGLEWOOD SUMMER CONNECTIONS
315 East Palisade Ave, Englewood, NJ
(201) 569-9500 x3501

Summer Connections at Dwight-Englewood School engages students of all ages in exploratory learning in areas such as robotics, photography, soccer, and journalism. For scholars looking for Carnegie school credit, there are a variety of courses in math, science, and foreign language. Our smallest campers discover the joy of learning through a full day of guided activities by caring and experienced teachers and counselors. Connect to a different community, to your teachers, and to your inner passions. Open to students in preschool through grade 12. Discover Dwight-Englewood School Summer Connections today!
S750 Gate Hill Rd, Stony Point
(845) 947-3223
PALISADES COUNTRY DAY CAMP
248 Herbert Ave, Closter, NJ
(201) 784-7600 x3

Palisades Country day camp exists exclusively for the young child, 2-7 years of age. Our aim is to nurture and develop each child's potential during a stimulating and fun-filled summer. We have created a relaxed environment where campers feel comfortable. Our small group size and excellent camper to counselor ratio assures the fostering of each camper's emotional, social, and physical needs. After a summer at PCDC, campers will feel a sense of accomplishment, importance, and independence, which in turn, builds strong self-esteem.
ROBIN HILL CAMP
70 Wesley Chapel Rd, Suffern
(845) 354-3366

A leader in pre-school and summer camp programs for over 25 years, Robin Hill offers the best all-around camp for children ages 2- 6 and ½. We provide activities of a large camp in a smaller, nurturing environment. Our swim program produces confident swimmers. Art and crafts, jewelry making, leather crafts, Yoga, dancing, and aerobics are just some of our fantastic programs. We also provide all sports including a fantastic zip line, ropes course, and climbing wall. Special Fridays include animal shows, musicians, and much more. Give your child a unique summer experience at Robin Hill.
ROCA SUMMER CAMP (ROCKLAND CENTER FOR THE ARTS)
27 South Greenbush Rd, West Nyack
(845) 358-0877 x18
Contact: Amy Alinkofsky, Camp Director

The camp experience at RoCA turns summer "sun" days into creative "fun" days for children ages 5 through 12. RoCA's ten wooded acres, fully equipped, air conditioned, art studios, and large sparkling swimming pool are the site of our programs. Campers, under the supervision of adult instructors and caring counselors, learn in a hands-on, non-competitive environment where confidence, creativity and group cooperation are encouraged. Three or four days per week available. Two, four-week sessions are offered. June 28-August 19. New discounts available! An open house will be held Sunday, March 13th, 1pm-4pm.
THE ROCKLAND COUNTY YMCA
18 Parkside Drive, Suffern
(845) 357-3223

We offer a fun-filled 2-1/2 hour summer morning program 2, 3 or 5 days a week for 2 to 5 year olds which encourages individual growth and fosters self-esteem. Indoor and outdoor activities include water play, art, music, and creative play. Our beautiful woodland setting and two playgrounds allow for additional science and nature-based activities to enrich each child's experience. Large indoor playroom for rainy days. Limited space available.
SUMMER FARM DAYS AT GREEN MEADOW
307 Hungry Hollow Rd, Chestnut Ridge
(845) 356-2514 x302

Farm, field, forest! Children 4-6 years old can experience summer fun on the farm for two weeks beginning late June. Children will care for lambs and calves, bake bread, garden, make ice cream, enjoy water play, nature crafts, storytelling and more. One-week or two-week program available. Half day: 8:30am -1pm. Full day: 8:30am-3pm. Spaces fill quickly.
WOODMONT DAY CAMP
420 Phillips Hill Rd, New City
(845) 638-0700

Woodmont Day Camp owners/directors Ilisha and Sam Borek feel fortunate to be pursuing their life's dream in the world of camping. Woodmont Day Camp is a camp where each child will feel the warmth and comfort of home. Your child will experience a dynamic program in an environment fostering growth and independence. We are ideally located 1/4 of a mile from exit 11 on the Palisades Interstate Parkway. Ilisha and Sam look forward to welcoming you to Woodmont...where camp is family.
YOUNG WORLD DAY CAMP
585 Wyckoff Ave, Mahwah, NJ
(201) 327-3888

Young World Day Camp, the initial camp experience, runs for eight weeks beginning June 27 for children ages 3-7. Age-appropriate activities promote physical, social, emotional, and intellectual growth and development. You can choose full-day (9am-4pm) or half-day sessions (9am-noon or 1pm-4pm) in our fully air conditioned facility. Extended care is available from 8am-9am and 4pm-5pm. Daily swim instruction is provided in our heated pool by Red Cross certified water safety instructors. Golf instruction is provided by TGA Premier Junior Golf. During the month of July, we also offer an academic Montessori Camp.
APPLAUSE PERFORMING ARTS CENTER
305 W. Saddle River Rd, Upper Saddle River
(201) 362-4948
Applause is a non-profit educational theater organization specializing in musical theatre; acting, singing and dancing classes, and shows for children ages 3-18. Register by the show or by the week. Camp runs from June 27 -August 12. Summer musical theater camp 2011 will feature possible shows, "The Little Mermaid," "Hairspray," "Fame," and more under consideration. Weekly camp includes contemporary music from Selena Gomez, Taylor Swift, Hannah Montana, Jonas Brothers, and Disney. Applause is the resident theater company at the Saddle River Cultural Center.
BRONX ZOO
2300 Southern Blvd, Bronx
(718) 220-5132
[email protected]
Opportunities abound for animal lovers at the Bronx Zoo this summer. The Zoo's "Pablo Python Looks at Animals" summer camp is back, with expanded hours, for your littlest naturalists. In jam-packed, one-week sessions, children ages 5-7 meet animals in the classroom and explore the Zoo's world-class exhibits. Meanwhile, campers ages 8-12 spend a week immersed in wildlife at Animal Kingdom camp, with visits from touchable animals, and adventures to Tiger Mountain and Madagascar! And teens 13-17 delve into the workings of the Zoo in the three-week Summer Internship: Animal Care program.
CAMP COUTURE AT THE PINK CHANDELIER
53 Hudson Ave, Nyack
(845) 675-7474

This summer, give your daughter a sneak peek inside the exciting world of fashion at the Pink Chandelier. She'll learn to sketch and build a mini-portfolio as well as the art of transforming everyday items into chic accessories. With the launch of Camp Couture, a 5-week, summer program, the studio will offer an interactive line-up of design programs for girls ages 7 to 13. From fashion and accessories to fragrance and interior design, each week will feature a new theme that girls can immerse themselves into!
COUPÉ THEATRE STUDIO
33 E. Rte 59A, Nanuet
(845) 623-2808

Coupé offers summer programs for three age levels: young ones (4 and 5 year-olds), 5-week summer program (8 years and older), Ballet intensives (by audition only). The programs feature age- appropriate classes in various disciplines of dance, musical theatre, voice, and acting; workshops about nutrition, and injury prevention; trips to Broadway and Lincoln Center.
GLAZE ART STUDIO
34 Orangetown Shopping Center, Orangeburg
(845) 359-9020

Glaze offers summer art camp for children in grades 1-8. Sessions include jewelry making, tie dye and print making, clay and ceramics, and more. Camps run Monday-Thursday, from 9am-noon for grades 1-4, and from 1pm-4pm for grades 5-8. Sessions start July 5. The fee is $195 per child and sessions are limited to 12 students. All materials are included.
GRANDMASTER B.M. KIM'S TAE KWON DO
White Plains: (914) 428-0085
Scarsdale: (914) 472-2060
Port Chester: (914) 934-1861
Nanuet: (845) 623-2002

Grandmaster B.M. Kim's Tae Kwon Do offers summer camp for eight consecutive weeks. The main focus of B.M. Kim's summer camp is martial arts training, but it offers many other benefits as well. Activities include Tae Kwon Do training, flexibility, meditation, basketball, soccer, football, reading and writing, and hiking. All staff is highly trained and certified Masters, instructors and Black Belts in Tae Kwon Do.
GREEN MEADOW WALDORF SCHOOL
307 Hungry Hollow Rd, Chestnut Ridge
(845) 356-9715

Green Meadow Waldorf School offers Parent & Child classes for babies and toddlers to age 3, serves children from Nursery through 12th Grade, and runs a Farm Days summer program. Founded in 1950, we are one of the oldest, largest Waldorf schools in the US. Benefiting from discovery and play in our Early Childhood program, and rigorous intellectual challenges in the High School, our students go on to top colleges, fulfilling careers, and are known for their resilience and creativity. Visit www.gmws.org to see how we are transforming education.
HELEN HAYES YOUTH THEATRE
142 Main St, Nyack
(845) 826-2049
Celebrating our thirteenth year of excellence in theater education, the Helen Hayes Youth Theater offers year-round theater programs for kids ages 5-17. Our 2-week summer camps culminate in full-staged productions on a professional stage. Sessions are available for ages 5-7, 8-12, and 13-18. This summer, we are performing "The Wiz," "Guys & Dolls," "Annie," and "Into the Woods." We welcome performers with all levels of experience. Please join us for professional training in a friendly, supportive environment. For more information, call us or visit our website.
J.Y. MOON TAEKWONDO SUMMER CAMP
704 Executive Blvd, Valley Cottage
(845) 268-0200

If you are planning an unforgettable summer, you have to try J.Y. Moon Taekwondo Summer Camp. Our summer camp will expose your children to a world class martial arts instruction combined with fun field trips, recreational swimming and outdoors sports and play. Whether you need one or nine weeks of summer camp, with extended hours from 7:30am to 6pm, our summer camp is the best investment in your children's education.
KID'S KINGDOM SUMMER CAMP
121 West Nyack Rd, Nanuet; (845) 624-0936
18 Thiells Mount Ivy Rd, Pomona; (845) 364-8266

Send your child on vacation right in our Kingdom! Exclusive indoor play kingdom with castle air bounce, ball pool, jungle gym, slides, tunnels, life size blocks, market, pirate ship and more. It's good old summer time fun as we sail the high seas, fly to the Caribbean, search for fossils in the land of dinosaurs, enjoy the beauty found in nature and much more. We also offer special event days and nights and a "Fun with Fitness" program. Ideal for children 2 1/2 through 7 years old and small groups.
KUMON MATH AND READING CENTERS
216 Congers Rd, Bldg 3, New City; (845) 638-1014
9D Pascack Plaza, Perlman Dr, Spring Valley; (845) 371-1033
Kumon is a math and reading program that unlocks the potential of children to achieve more on their own. Jay Raghunath has been a certified Kumon instructor for more than 20 years. She uses Kumon's individualized approach to help children develop a solid command of math and reading. The centers are open through summer which gives students the opportunity to practice and master materials in preparation for the upcoming school year in the fall.
LEAD ACADEMY
450 S. Main St (Rte. 304), New City
(845) 639-6674
Lead Academy is a learning center conveniently located on Route 304 in New City. Summer camp runs from July to August. Our dedicated teachers will work with students of all age groups on the following subjects: experimental science, math and logical thinking, and reading and writing skills. We also have the best 8-week SAT prep course in Rockland County. Ten percent early registration discount applies to all who register by March 31.
MAD SCIENCE OF THE MID-HUDSON
(845) 294-5434

Children in Mad Science camps participate in scientific explorations that are so much fun, they forget they're learning! These recreational science programs are designed to help all kids learn to enjoy science. Summer 2011 topics for grades K-5 include robotics, Mad Machines & Crazy Contraptions (new), Secret Agent Lab, Crazy ChemWorks, and Nature Adventure. Pre-school kids can attend the Junior Explorers Camp. Mad Science is the world's leading fun science provider. Scholarships are available through your elementary school.
MASTER JUNG & YU TRADITIONAL TAEKWONDO
70 N. Main St, New City
(845) 638-4000

Blending Korean culture and philosophy with traditional Taekwondo, Master Jung & Master Yu's school offers unique martial arts training. Our goal is to help children build self-confidence, respect, good listening skills, and coordination all in a fun-filled environment. Classes are open 7 days a week for all ages. Our unique birthday parties open the door for future leaders and martial artists and are available on weekends. We will offer a variety of summer classes-please call for more details.
MATCH POINT TENNIS CLUB
39 Ramland Rd South, Orangeburg
(845) 359-0031

Your children can learn tennis, improve their game, or just have fun at the area's first indoor tennis facility to be built in decades. Full day (lunch included) and half day options. Weekly sessions from late June through Sept 2nd. Ages 3-16. Brand new US Open style courts with maximum cushioning in our state of the art, weatherproof, and climate controlled building ensure safety and fun, rain or shine, no matter what the temperature. Director Nausher Madan has been a constant in the Rockland and Bergen areas for 30 years.
PANTHERS TAEKWONDO & MIXED MARTIAL ARTS
100 Rte 59, Suite # L-3, Suffern; (845) 357-9077
188 South Main Street, New City; (845) 708-5838

Our summer camp is fun, affordable, and will give your child a good introduction to the amazing world of martial arts! It includes both indoor and outdoor activities, field trips every other Friday (i.e. movies, roller skating, bowling, etc.) and weekly trips to local parks. Program runs from July 5-August 26. Hours: 8:30am-3:30pm. Regular price is $299 per week, but if you register before April 1st with $100 non-refundable deposit, the cost is only $249 per week. Extended hours available (7:30am- 5:30pm) for an additional $5 more per hour. Register now and save.
ROCA SUMMER CAMP (ROCKLAND CENTER FOR THE ARTS)
27 S. Greenbush Rd, W. Nyack
(845) 358-0877 x18
Contact: Amy Alinkofsky, Camp Director

The camp experience at RoCA turns summer "sun" days into creative "fun" days for children ages 5-12. RoCA's ten wooded acres, fully-equipped, air-conditioned, art studios and large sparkling swimming pool are the site of our programs. Campers, under the supervision of adult instructors and caring counselors, learn in a hands-on, non-competitive environment where confidence, creativity, and group cooperation are encouraged. Session 2 still available! July 26-August 19, three or four days per week. New discounts available!
SANDLOT STARS AT JCC ROCKLAND
Mike Looney, Sandlot Stars Director
Contact Carrie Sakin, Sports Administrative Assistant: [email protected]
450 West Nyack Rd, West Nyack
(845) 362-4400 x172
Sandlot Stars at JCC Rockland provides the missing athletic component that every child needs and deserves. Kids get stronger, faster, and better conditioned for sports, but in a fun way that still allows them to be kids. We combine a mix of physical education and traditional school games and activities, where kids in grades 1-8 learn to think for themselves, be creative, and most of all...just play! Camp includes lunch, air conditioned facilities, outdoor fields, and rainy day rooms. Register for as little as one week or as many as six weeks.
SOUTH ORANGETOWN CAMP FOR ARTS AND THEATER (SOCAT)
Dominican College-Forkel Hall, 470 Western Highway, Orangeburg
(212) 431-7313

Looking for something creative and different for your child this summer? Then SOCAT is the place for you! The South Orangetown Camp for Art and Theater, run by former "Summerstage" veterans Alastair King and Eric Goldstein, consists of a musical theater program in which kids learn all aspects of developing and performing an original musical, and a visual arts program that encourages kids to explore different artistic mediums, culminating in a gallery exhibit at the end of the five weeks. Extended day including open swim is available.
THE SPORTS PLACE
600 Bradley Pkwy, Blauvelt
(845) 358-GAME (4263)
TSP's camp directors work with kids of all ages. They are at TSP year-round and also run our parties and 1st to Home classes for kids as young as 2 ½ old. Their soft-spoken, positive reinforcement-based instruction makes learning sports fun and exciting for kids of all ages. They are ready, willing, and able to make sure your kids have fun at Rockland's only weather-proof camp. TSP...where the focus is on fun! Toppings Ice Cream Treats included in our new summer camp meal-plan.
SUMMER CONNECTIONS AT DWIGHT-ENGELWOOD SCHOOL
315 E. Palisade Ave, Englewood, NJ
(201) 569-9500 x3501
18 Park Lane, Nanuet
307 7th Ave, Ste 900, NYC
(212) 924-3131
VICKI'S STUDIO
61 Maple Ave, New City
(845) 634-2202

We are the best alternative to an all day camp with the most reasonable rates! We cater to ages 16 months (diapers welcomed) to 5-year-old boys and girls. This multi-arts program includes music with instruments, creative movement, theme weeks, tumbling, and a lot more. Other special summer programs for ages 3-adult include dance, gymnastics, Costume Dress Up Tea Party, all boy classes, and a variety of combination classes. Programs are 1 1/2-3 hours with extended hour options.
VISION FITCAMP AT VISION SPORTS CLUB
37 West Jefferson Ave, Pearl River
(845) 517-1400

Give your kids a summer they will remember for a lifetime. Our program is designed to instill the importance of health and physical activity while having fun. Activities include sports, games, fitness classes, arts and crafts, movies in our VisionPlex theater, and much more. All activities are age-appropriate, for grades K through 7th. VisionFit Camp offers 9 weekly summer sessions offering full and half day sessions as well as extended day options. VisionFit Camp director, Greg Raho, specializes in sports training and has many years of experience working with children.
Find more camps in the New York City area