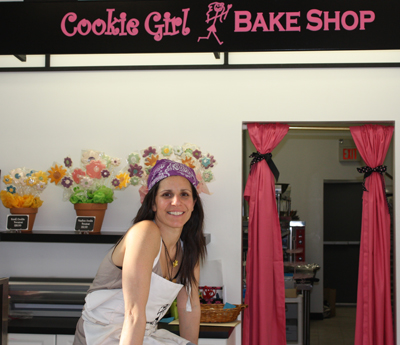 When Stacey Damesek became a stay-at-home mom a few years ago, the former art teacher quickly realized she needed a creative outlet to avoid going stir crazy. The answer came in the form of cookies and cakes, which the mom of two made and decorated herself for her little ones' birthday parties. Her friends caught on to her talent for treats, and Damesek was soon making custom birthday goodies for their kids as well. When her youngest child entered Kindergarten this past fall, Damesek decided it was time to take it one step further and open her own storefront. Thus, Cookie Girl Bake Shop was born in November.
In addition to the selection of fresh-baked treats on display daily, including a variety of colorful cookie "bouquets," Cookie Girl offers edible party favors and centerpieces, gift baskets, and cookie "cards." The shop's specialty, though, is creating custom treats, just as Damesek started out doing for her close friends. The only thing that's really changed, she says, is her location. "We don't use anything other than butter, flour, sugar, and other natural ingredients. It's almost like a home kitchen, but we happen to be a store."
Cookie Girl Bake Shop is located at 191 South Main Street (in Town Plaza), New City. For more information: 845-708-5888 or www.cookiegirlbakeshop.com.
Also see: More Birthday stores and resources in Rockland and the New York City area