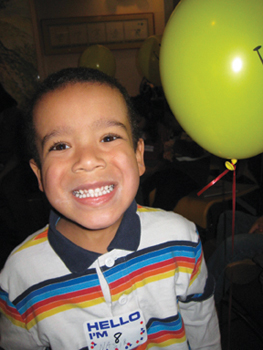 On February 4, Rockland Pediatric Dental and Schein Dental hosted Give Kids a Smile Day. Twenty-five children from Rockland's Head Start program were invited for a day of complimentary dental exams, fluoride treatment, and oral hygiene education, mixed with a little bit of fun.
Participating preschool-aged children, along with several parents and Head Start staff members, were welcomed into the Rockland Pediatric Dental office by a full dental staff who first settled them into the waiting room, where kids listened to a reading of Show Me Your Smile! A Visit to the Dentist starring Dora the Explorer. "We wanted the kids to have a wonderful first experience and not be scared to come back to the dentist," says Anne Chaly, DDS, FAADP.
Another goal of the day, Chaly says, was to provide parents and caregivers with information about the importance of early dental visits and the care of primary teeth. "Parents don't tend to think primary teeth are very important because they're just going to fall out," Chaly says. "But baby teeth are just as important as adult teeth, and kids need to be seen regularly to avoid cavities."
The children left the office with some tangible goodies-including a toothbrush, toothpaste, and dental information for parents - along with the completed dental screening that the state mandates before entering school.
Rockland Pediatric Dental plans to continue this program next February, during National Children's Dental Health Month. For more information, call 845-634-8900 or visit www.rocklandpediatricdental.com.