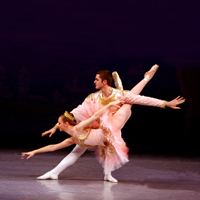 For the past 27 years, the Rockland Youth Dance Ensemble (RYDE) has performed the holiday classic, The Nutcracker, and this month will be no exception. Guest artists performing this year include Bill Hastings and Terri Klausner, returning as Drosselmeyer and Head Maid respectively. Hanan Misko and Milan Misko will do alternating performances as the Cavalier in the Grand Pas de Deux. Following are a variety of options for all ages to see this time-honored tradition.
   The production will be presented on Friday, December 12 at 7pm; Saturday, December 13 at 3 and 7pm; and Sunday, December 14, at 1 and 4pm, at the Cultural Arts Theatre at SUNY Rockland Community College.
  On December 6, at 7pm, in the auditorium of the Clarkstown South High School in West Nyack, the 2008 Special Audience Benefit Performance of The Nutcracker is being held. This performance is for senior citizens and physically and mentally challenged residents of Rockland. During the intermission, there is a free "Sweets Reception." Tickets for this performance are only available through senior citizen centers and other county organizations with active membership among seniors and the physically and mentally challenged.
   Additional RYDE performances of The Nutcracker are being held on December 8 at 6pm, in the atrium at the Helen Hayes Hospital for residents and staff (the public is also welcome), and on Friday, December 12 at 9:30 and 11:45am, at the SUNY Rockland Cultural Arts Theatre, specifically for school children, at reduced ticket prices.
   RYDE's Junior Company's performance of The Nutcracker will take place on December 6 at 3pm, and December 7 at 1 and 4pm, at Clarkstown Senior High School South in West Nyack.
   For tickets and additional information, call 845-624-RYDE (7933).