If you grew up in Colorado, you might wonder where the mountain is at Bear Mountain State Park. But if you aren't looking for anything as challenging as the Rockies or K2, the park has plenty to offer year-round when it comes to affordable family-friendly activities and relaxing recreation.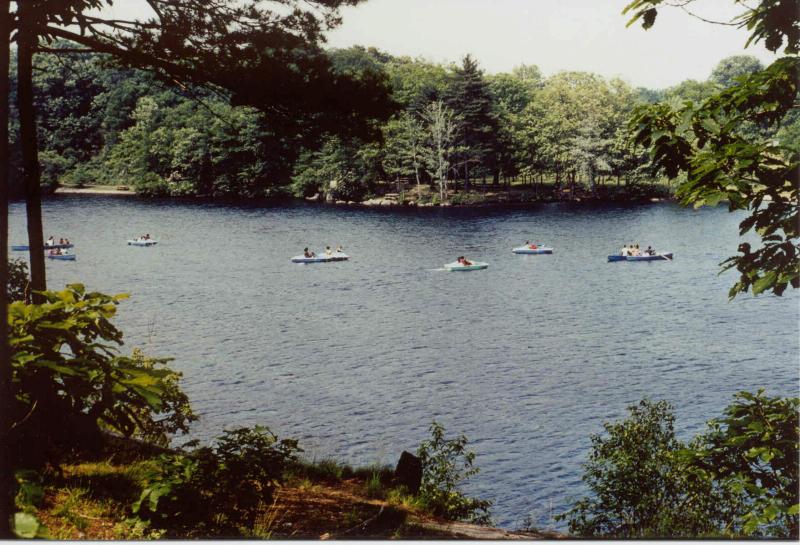 Besides the numerous trails for walking and hiking, the park's Hessian Lake opens for the season around Memorial Day with rowboat rentals. There's a paved (read: stroller-friendly) walking path around the lake, and in warm weather kids can enjoy fishing and feeding the resident ducks. Surrounding the lake are picnic tables and barbecues – making the park a popular destination for family get-togethers. And in my experience, the public restrooms have been acceptably clean.

Another summer attraction is the park's huge outdoor swimming pool, which offers an escape from the heat as well as majestic views of the park and the bordering Hudson River.

Not much for sports? Check out the merry-go-round. The ride sits in a beautiful stone pavilion. It opened eight years ago this month – on April 29, 2001 – and features 42 hand-carved "seats" of native New York animals, including black bear, wild turkey, deer, raccoon, skunk, Canada goose, fox, swan, bobcat, rabbit and more. While hours and days vary with the season, the merry-go-round is open year-round.

To see some real wildlife, check out the park's small zoo and Trailside Museum, which offer a pleasant diversion for families with young children. You won't find lions or tigers here. Rather, the zoo features local wildlife – much of which was orphaned or in need of rehabilitation due to injury. You will find foxes, bobcats, porcupines, black bears, birds of prey, and a terrific exhibit on local reptiles and amphibians. The zoo is also open year-round and has special activities throughout the year

For winter adventurers, start with sledding and ice-skating. Parents and pets can join kids as they slide down the park's gentle hills. One nice thing about the park is that it's dog-friendly. While dogs are supposed to be on leashes, in winter, the rules seemed to be relaxed.

The rink is open through mid-March and offers several daily sessions each weekend with lively – but not annoyingly loud – music. When we visited earlier this year, we saw parents hosting a child's birthday party at the rink-side picnic tables. They brought tablecloths, decorations, donuts, and hot cocoa. It seemed almost quaint – like something my own mother might have done for me back in the 70s.

While many of the activities at Bear Mountain are either free or low-cost, as of press time there was a parking charge of $6 per car. The park is located in Orange County, just past the Rockland County border. Take Exit 19 off the Palisades Interstate Parkway.

For more information, contact the Palisades Interstate Park Commission: 845-786-2701 or http://nysparks.state.ny.us/parks.