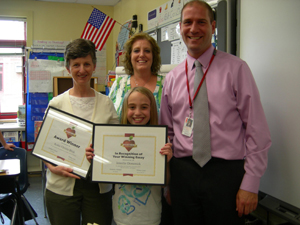 Fourth grade teacher Kottie Christie-Blick of Cottage Lane Elementary School in Blauvelt, NY, is the 2011 local recipient of Barnes & Noble's "My Favorite Teacher" award.
The competition was open to all students through 12th grade from October 2010 through February 2011. Students across the country were invited to submit essays or poems to their local Barnes & Noble stores naming their favorite teacher, describing how he or she has influenced their life, and explaining why they appreciate and admire that teacher. Local winners were chosen from the essays submitted.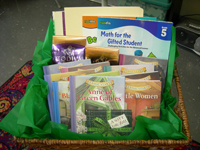 Cottage Lane 4th grader Jennifer Domenick's essay about Ms. Christie-Blick won the local competition. Palisades Mall Barnes & Noble store manager Kim Roland presented Ms. Christie-Blick with a framed certificate as well as a gift basket filled with books, a Barnes &Noble gift card, and some chocolates. Winning essay writer Jennifer Domenick also received a framed award certificate and a Barnes & Noble gift card.