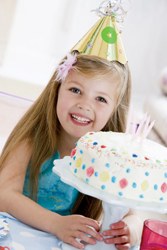 Food at parties seems to be an increasingly challenging issue. Some parents have gone organic, while more kids are diagnosed with allergies and lactose intolerances, and then there is the old-fashioned picky eater. See what advice the experts in your area had for parents about serving the right food at your child's birthday party:
"Parents can bring something from outside if there is an allergy concern."
-Christine Falcone of Catskill Laser Tag, West Nyack
"Ask if a child has any special food concerns or allergies on the actual invitation or parents can let the host know when they RSVP. You can serve the majority of the children what you planned, and make accommodations for those with special concerns."
-Howie Abraham, Partner, Screamin' Parties, West Nyack
"The host of the party should tell parents in advance what will be served and then parents with children who have food allergies can bring an appropriate substitute."
-Claudette Scheffold, Partner, Glaze, Orangeburg
"Keep it simple and easy! Parents are responsible to inform us of any child with a food allergy and to supply the child with something to eat."
-Cheryl Holm, Owner of Tumble-Bee Gymnastics, Nanuet
"Parents should ask the children what allergies they have or if they are vegetarians."
-Ellen Arkin of Strawtown Jewelry, New City
"We serve pizza, and Kosher pizza is available upon request. We also permit food to be brought in from the outside if there is an allergy we can't accommodate."
-Keith Phillips, General Manager of The Sports Place, Blauvelt