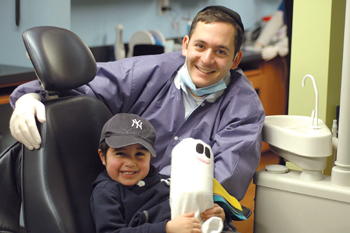 Dr. Michael Weisberg and his team at Smile Builders in Monsey continue to grow and serve the community in pediatric dentistry and orthodontics with a devoted staff and investment in state-of-the-art equipment. At the start of the year, Smile Builders began to incorporate the newest technology in orthodontia, SureSmile. Rather than bending an archwire by hand, SureSmile utilizes robotic technology to bend the wires that make the braces, allowing for more gentle and precise treatment. This technology increases comfort for the patient as well as decreases the amount of time needed to wear braces, Weisberg says.
Within the past six months, Smile Builders has also added several experienced staff members, including pediatric dentist Dr. Eyal Simchi. Smile Builders has also increased its appointment schedule and remodeled its 2,000-square-foot home office, which is now furnished with two waiting rooms and more activities for young patients.
Dr. Weisberg's philosophy is to treat every child like he would his own, he says, and his staff is committed to the needs of each individual patient.
Smile Builders is located at 1 Mariner Way in Monsey. For more information, call 845-362-7645.