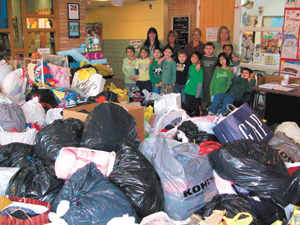 Students and staff at the South Orangetown Central School District did more than rise to the occasion when they were asked in mid-January to help victims of Haiti's recent earthquake. The District was approached by the Chestnut Ridge School Bus Company to collect donations, which the bus company would pick up and deliver to various charities via a school bus. By Friday, January 22, the district had collected enough goods and supplies to fill two school busses and two vans with relief goods. "We had no idea the response was going to be this huge," bus company spokesperson, Norman Fisher, said in a statement issued by the district. "It is overwhelming."
The district had been given just one week to fulfill the request. Letters and email notifications immediately went out from each of the district buildings requesting assistance and providing a list of critically needed items. In the last three days prior to pick-up, the district's four elementary and middle schools: William O. Schaefer, Tappan Zee Elementary, Cottage Lane and South Orangetown Middle School, received 50-75 bags of food and clothing each day. Donations included cases of water, pack-and-play cribs, sleeping bags, blankets, tents, sheets, diapers, first aid items, food, clothing, and toys.
In addition, Tappan Zee High School's Foreign Language Department organized a cash donation collection. By the end of the week, students and staff at the school had raised $1,375 towards the Haitian relief effort.
"The outpouring of aid within the district and throughout the South Orangetown community in response to the tragedy in Haiti was deep, heartfelt and instantaneous. We were extremely pleased to be able to assist in the relief effort," said BJ Greco, District Spokesperson.
Donations collected by the school district and bus company's collaborative efforts will go to the American Red Cross, Doctors Without Borders and Partners in Health.