Meeting Gussie Levine, it's hard to believe this spry lady is 97 years old. "I'm not the oldest here," she humbly points out, referring to the FountainView, the senior residence in Spring Valley where she has lived for the past decade. "There are two residents here over 100."

But what sets Levine apart from her neighbors at the FountainView is that she has embarked on a new career, as a children's author. Her debut, The Wall That Grew and Grew, was published two months ago and Levine has a hard time keeping the books in stock. "I just had to reorder 200 more books from the publisher," she says with a smile.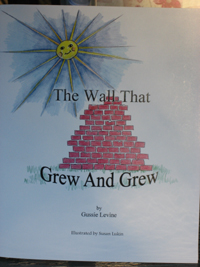 The Wall That Grew and Grew is a soft-covered book for children ages 4 to 8. It centers on twin boys, Tippy and Toppy, who try to figure out a way to make naughty people nice. A possible solution is explored for this age-old dilemma in an easy-to-understand story, with colorful illustrations. Her daughter, Susan Lukin, is the book's illustrator and Levine has dedicated the book to her two great grandchildren, Julia and Alexander, who have given it their seal of approval. "We love the book," the children wrote in a note to Levine. "It has a great message." The Wall That Grew and Grew is available at amazon.com, priced at $7.30. Levine is donating all of her proceeds to St. Jude Children's Research Hospital.

The idea for the story came when Levine was volunteering as a foster grandparent with Spring Valley Head Start. The program pairs seniors with 4- and 5-year-old preschoolers. "I would listen to all the stories the teacher would read during our visits," she says. "I thought I could do better." Levine says the story just came to her, and she wrote it down. After some prodding from friends and family, she decided to publish the story.

Like many authors, Levine began the journey to find a publisher. Her late husband, Joseph Levine, had published several resource books for children during his tenure as an educator. She first tried McGraw-Hill, which published Joseph's books, but found they no longer publish children's literature. After trying a few other companies through recommendations, she began to scour the names of publishing companies listed in The New York Times bestseller lists. There she came upon Trafford Publishing.

According to Wikipedia and the company's website, Trafford Publishing is a self-publishing and print-on-demand publishing company based in Victoria, Canada. The company's ability to print-on-demand means they print shorter runs in response to orders from the author or from retail customers. Trafford requires payment from the author to cover set-up costs, and the author has to do most of his or her own marketing. Trafford provides bookmarks, postcards and other promotional material featuring the book cover, as well as help navigating the major online retail sites such as Amazon. Books are printed within six weeks and in some cases, just days.

Gussie Levine has lived in Rockland for almost 40 years. She grew up on the East Side of Manhattan, a child of immigrants from Budapest. She met her husband through her brother and both became long-time educators in the New York City public school system. She received her certifications at Hunter College and went on to work with learning and behaviorally disabled children on the Lower East Side of Manhattan. Her husband was a teacher, eventually becoming an administrator at various schools in Queens and Brooklyn. The Levines settled in Flushing, Queens, where they had three children — Paul, a financier, Alan, a retired teacher who taught art at Spring Valley High School, and Susan, an artist and social worker. In the early 1970s, Joseph Levine suffered his first serious heart attack and was told he needed to rest. "The doctors said if he didn't stop working, he would die within a year." It was then the Levines moved to Rockland County, settling in Valley Cottage and traveling to their home in West Palm Beach, Florida during the winters. "This lifestyle gave us 30 more years together," says Levine. Eventually, Joseph became frail and the couple needed more care, which led them to the FountainView. Joseph passed away eight years ago.

But the always-energetic Gussie Levine stays busy. In addition to the foster grandparent program, she has been a part of the Retired Senior Volunteer Program (RSVP) for more than 30 years, which enlists seniors to call and check in with a child in Rockland during the day before the parents get home from work. Levine is also on the editorial staff of the FountainView newsletter, and writes poetry.

At this point, the FountainView's resident celebrity doesn't discount another book, although she is too busy to focus on that right now. "I would need to find another story that would inspire me," says the very inspiring author.