At Sprouting Learners, a new preschool and daycare center in Nanuet, New York, teachers encourage children's natural curiosity to learn and explore through traditional and Montessori methods.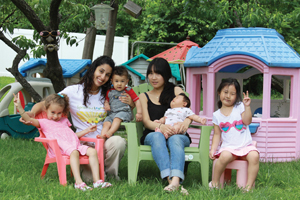 When her first child was born three years ago, Mary Stein-Rosales struggled to find a daycare in Nanuet, but nothing seemed to be the right fit. Now a mother of two, Stein-Rosales took it upon herself to solve this problem by founding her own daycare. At Sprouting Learners, which opens in August, her goal is to create an exciting and stimulating learning environment that will harness children's natural curiosity to learn and explore.
Sprouting Learners' approach to preschool learning combines traditional teaching methods with the Montessori method. Montessori emphasizes learning through all five senses, not just listening and watching. Children, ages 6 weeks to school age, learn at their own pace through individual and group activities ranging from yoga to language (Spanish and Korean). Montessori also encourages older children to share their knowledge with the younger children during group activities.
At Sprouting Learners, Stein-Rosales says she wants to ensure quality childcare and create a homelike environment that will encourage children to learn and grow, leaving both parents and kids happy.
Sprouting Learners is located on North Middle Town Road, close to the Palisades Parkway, in Nanuet. For exact location, call 845-547-0119. For more information, visit www.sproutinglearners.com.
Find more childcare and daycare centers in Rockland