Students at Reuben Gittelman Hebrew Day School in New City organized and held a fundraiser in October for pediatric cancer patients.
Reuben Gittelman Hebrew Day School (RGHDS) in New City held its seventh annual Stand Up to Cancer Day on October 30 to raise awareness and money for pediatric cancer treatment.
The fundraising event, entitled "Children Helping Children," was organized by 8th grade Student Council co-presidents, Jonah Kelly and Sarah Parkes. The day's events-which included a student/faculty dodgeball game, bake sale, T-shirt sale, and the opportunity to dress down and wear a baseball hat to school for a donation-raised about $1400, says B. Anat Valdman, director of student life for RGHDS's middle school. On November 10, student council members presented a check for that amount to Nyack Hospital to aid in the renovation of the hospital's pediatric center.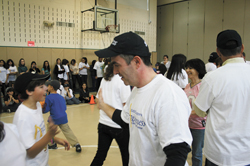 Stand Up to Cancer Day has become a tradition at RGHDS. The event originally raised money for breast cancer awareness and treatment because the disease had affected several women in the community, says Valdman. The focus shifted to pediatric cancer three years ago when one of the school's students was affected by the disease.
"We've been through a lot as a community, as a school, and we try to contribute to the community as much as we can," says Valdman, who adds that the school hopes to continue Stand Up to Cancer Day in the future.
The Reuben Gittelman Hebrew Day School is located at 360 New Hempstead Road in New City. For more information, call 845-634-5200 or visit www.rghds.org.