Participants in Rockland County's first-ever Swim for Hospice charity event raised thousands of dollars for United Hospice of Rockland. Several local teens took the opportunity to honor the late swim coach Keith Furey.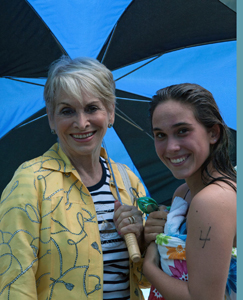 Tess Raso, United Hospice of Rockland board chair, with Nyack resident Ashley Marinello, 15, the event's top teen fundraiser
On August 14, Rockland residents braved inclement weather to participate in the county's first-ever Swim for Hospice. Through their determination, the participants raised more than $8,000 for United Hospice of Rockland (UHR), an organization that provides care, comfort, and improved quality of life to individuals affected by serious illness and offers compassionate support to families and members of the community.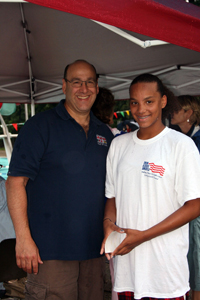 Swim for Hospice, which was co-sponsored by Swim Across America and the Town of Clarkstown, was held at Germonds Pool in West Nyack. Several local teens swam either a half-mile or one-mile length in memory of Keith Furey, the New City resident and Clarkstown and Condors Swim Club swim coach who passed away June 30.
Top fundraisers included 15-year-old Ashley Marinello of Nyack, who raised $1,250 for Team Keith Furey, and UHR board member Judy Pachter, who raised more than $2,700 for Team Marc Holland.
Other highlights included an appearance by Skip Storch, the International Marathon Swimming Hall of Fame inductee, who stopped by the event to sign autographs.