Hannah Kim of Tappan Zee High School in Orangeburg, NY, claimed third place in the local branch of AAA's Annual Traffic Safety Poster and Video Contest. The 9th grader's poster (pictured), meant to discourage teens from texting while driving, was one of 12 place winners and four merit winners chosen by AAA New York from a total of almost 1,600 entries. Kim was the only winner from Rockland County.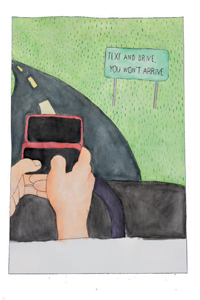 Contest entries, submitted by New York-area children in kindergarten through 12th grade, featured AAA-approved traffic safety slogans and the students' own original designs. The posters and public service announcements submitted were judged by grade level (K-2, 3-5, 6-8, and 9-12). Students in kindergarten through 8th grade illustrated an assigned safety category (such as Pedestrian and Child Passenger Safety, Getting to School Safely, and How to be a Good Passenger) while high schoolers were asked to communicate their ideas on safe teen driving. First place winners in each category received a $500 Visa gift card; second place winners were awarded a $250 gift card; third place winners were given a $100 gift card; and four merit winners received movie tickets and an AAA Atlas. Kim will accept her $100 prize and an award plaque at an award luncheon June 9 at the Davenport Press Restaurant in Mineola, NY.
Now in its 67th year, AAA's national traffic safety contest continues its aim to reduce traffic crashes, which are the number one cause of death for children ages 3-14. The program encourages students to learn about traffic safety practices as they use their creativity to express them in poster and video form, with the hope that this project will motivate them to adopt safer behaviors in their own lives.