This annual, family-friendly festival at Harriman State Park in Rockland County, NY, celebrates Native American history and culture with traditional music and dancing by native groups from around the world.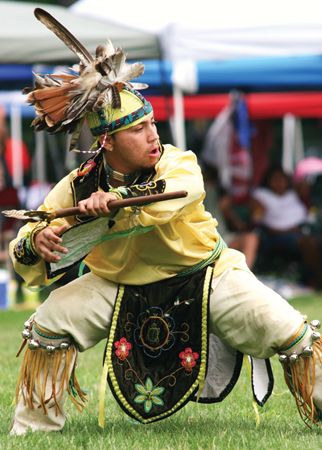 Someone must have done a rain dance by mistake last year.
On August 7 and 8, the Redhawk Native American Arts Council will host its 14th Annual Bear Mountain Native American Festival Contest Powwow. Last year, heavy rains left the celebration site in Harriman State Park a murky mess of mud. With good weather this year, organizers expect nearly 5,000 visitors daily for this weekend-long event.
Adults and children who are captivated by Native American history and culture can enjoy food, crafts, and entertainment as well as interact with members of the Sioux, Navajo, Winnebago, Cherokee, and Mohawk tribes. Adventurous eaters can try buffalo burgers, venison stew, corn soup, and fry bread. Less adventurous souls can browse a marketplace where artists from across the country showcase and sell paintings, carvings, pottery, beadwork, jewelry, and leatherwork. The family-friendly event also features a live birds of prey exhibit, pony rides, and a tipi-raising.
Festival Info
What: Bear Mountain Native American Festival Contest Powwow
Where: Anthony Wayne Recreation Area, Harriman State Park
When: August 7-8, 11am-7pm
How much: $12, $7 ages 7 and up and seniors, free ages 6 and under
For more information: 718-686-9297 or visit www.redhawkcouncil.org
All that said, the highlight of each year's event is surely the music and dancing - which is literally and figuratively at the center of the festival. In contest powwows, dance groups representing various indigenous communities and ranging in age from tots to adults compete in categories including Men's Fancy War, Women's Fancy Shawl, Men's Northern Traditional, Women's Jingle Dress, and Hoop Dancers. Dancers are judged on their outfits, dancing ability, and how well they tell a story with their performance.
Native groups from around the world will be represented. A Polynesian dance troupe will convey the culture of the islands of Hawaii, Tahiti, Samoa, and New Zealand. There will also be an Aztec group from Mexico City and Inca groups from Peru and Ecuador.
The Redhawk Native American Art Council is based in Brooklyn (surprisingly enough) and aims
"to educate the general public about Native American traditions and cultures and to help break stereotypes about who Native Americans are today." This is done, among other ways, through an annual multi-festival series. The first of this year's events was held last month in New Jersey. The series continues next month at FDR State Park in Yorktown Heights, in Westchester County.


For even more family activities and events in Rockland County, visit our Online Calendar.