Rockland County's "35th Annual Miniature, Dollhouse & Art Exhibition: A Celebration!" is a family-friendly exhibit filled with whimsical artwork by local artists like Sandra Mirque, Elizabeth Parsons, and Barbara Soloff Levy.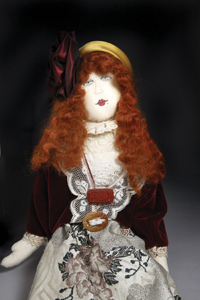 A Bit of Whimsy
Miniature houses and dioramas give us all a sense of wonder when we peek at the whimsical details furnished by their creator. Combining this sense of whimsy with art appreciation, the Historical Society of Rockland County (HSRC) once again hosts its perennially popular exhibit of miniatures, dollhouses, and art.
This year, the 35th Annual Miniature, Dollhouse & Art Exhibition: A Celebration!, curated by the Society's own Joanne Potanovic, showcases the work of miniature artist and Rockland County native Sandra Mirque. Visitors may recognize Mirque's work from previous years. According to Potanovic, "Each of her detailed room boxes tells a story and are very appealing to those of us who are young at heart."
For A Celebration!, Mirque has created a special, Tuscany-themed room box that will raffled off, with the proceeds benefiting the HSRC. The kitchen scene invites viewers into a simple yet comfortable room where food beckons on a table, and flowers are arranged nearby along with pieces of traditional pottery from the region. The scene is so tranquil and realistic that you can almost feel fresh air coming through the open window.
Mirque also contributes a vignette of Alice in Wonderland at a garden party with the Mad Hatter. The colors and patterns might remind older visitors of the 1980s-era video by Tom Petty for the song "Don't Come Around Here No More."
Aside from Mirque's work, this year's exhibit features pieces by collage artist Elizabeth Parsons of Monroe, as well as "art dolls" and dollhouses by West Nyack artist and children's book author and illustrator Barbara Soloff Levy. Other Rockland County artists include ceramic artist Rosemary Aiello, children's book illustrator and author Elizabeth Sayles, illustrator William Sayles, quilter Mary Jane Sexton, miniaturist Carolyn McErlean, miniaturist Zsuzsa Neff, and glass artist Stephanie Maddelena. Regional contributors include miniaturist Gladys Vasquez, miniaturist Tamara Greeman, and dollhouse creator Hallie Horning.
Check the Historical Society's website for information about events and workshops that will be held throughout the run of the exhibition.
Details
What: 35th Annual Miniature, Dollhouse & Art Exhibition: A Celebration!
Where: Historical Society of Rockland County, 20 Zukor Road, New City
When: Through February 27. Wednesday-Sunday noon-4pm
How much: $7, $3 ages 12-3, FREE ages 2 and under
For more information: 845-634-9629 or www.rocklandhistory.org
Also see: February Family Activities in Rockland County, NY
Our Online Calendar, for even more family events in Rockland County and the NY metro area