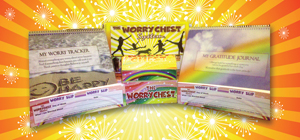 The Worry Chest, a system that helps children deal with and overcome everyday stress and anxiety, is now available in select stores throughout Rockland County. The program was developed by Howard Abraham, owner of the West Nyack-based special events venue Screamin' Parties. "Everyone worries, but 85 percent of what we worry about never happens," Abraham says. "This system teaches children - through lessons in their own life - that their worries will work out."
Abraham developed the system based on his own life experiences, as a child who worried constantly. As a father, he now uses the system with his son. "This system bridges the gap that exists between a child's thoughts and the parents' awareness of their problems," Abraham says. "Worries are written down and addressed as soon as they occur so they don't snowball into stress and anxiety."
Abraham received a grant from New York State last year, which allowed him to test the system in Suffern's Lime Kiln Elementary School, where he says it was incredibly successful.
The Worry Chest is available at Screamin' Parties, 248 West Nyack Road in West Nyack, as well as several other local stores and online. For more information, call 845-267-2022 or visit www.theworrychest.com.