Check out our favorite events for kids and families this August in Rockland County, New York, including a free family concert in Orangeburg, a Bird Festival at Bear Mountain State Park, a Native American Heritage Celebration in Stony Point, a puppet ballet at SUNY Rockland, a renaissance fair in Sterling Forest State Park, and a jewelry workshop just for moms and daughters in New City.
Say Uncle
Local children's performers The Uncle Brothers give a twilight concert to kick off an evening of family-friendly entertainment. Parents "of a certain age" might relate to the duo being described as a family-oriented cross between Jimmy Buffett and The Smothers Brothers. Kids can sing and dance along to original tunes by "brothers" Danny Quinn and Tommy Gardner (pictured) while parents and grandparents can enjoy some oldies tossed in just for fun. August 5. 6:30pm. All ages. FREE. Veteran's Memorial Park, 82 Hunt Road, Orangeburg. 845-359-6503.
Earthly Delights
Trailside Museums and Zoo, located at Bear Mountain State Park, celebrates the birds of New York State with a Bird Festival. Visitors can marvel at the many native birds on exhibit at the zoo, including a bald eagle, great horned owl, black vultures, and more. Kid-friendly activities include the "Great Migration Challenge," "Birds and Worms," "Bird Olympics," "Face Painting," "Story Time," and more. August 6. 11am-3pm. All ages. $8 parking per car. Trailside Museum and Zoo, Bear Mountain State Park, Palisades Interstate Parkway, Exit 19 or Route 9W, Bear Mountain. 845-786-2701.
Swap-O-Rama
Urban hipsters have been hosting clothing swaps for years. Swap-O-Rama, a modern twist on recycling, comes to the suburbs just in time for back-to-school. Besides saving parents money, the event benefits Home Aides of Rockland, Inc.'s Reduced Rate Home Care Program, which makes home care financially accessible to those coping with frailty, chronic illness, and disability. Leftover items from the event will go to local not-for-profits. Clothing will not be accepted in advance of the event or without paid entry. August 6. 10am-4pm. All ages. $10 to enter with a bag of clothing; FREE for ages 10 and under. Germonds Church Fellowship Hall, 39 Germonds Road, New City. 845-634-2024.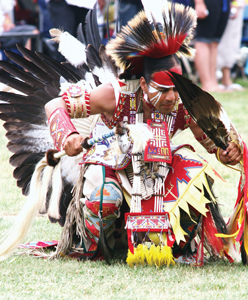 Celebrate Native American Culture
The Redhawk Native American Arts Council hosts the Native American Heritage Celebration of the Hudson Valley the weekend of August 6-7. This annual event showcases crafts, clothing, and captivating dance performances representing indigenous cultures from around the world. 11am-7pm each day. All ages. $10, children and seniors $6; $8 parking per car. Anthony Wayne Recreation Area, Exit 17, Stony Point. 718-686-9297.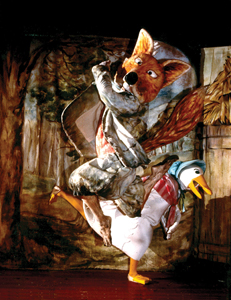 Puppet Ballet
Those amazing puppeteers, Hudson Vagabond Puppets, present two of Beatrix Potter's beloved tales in a "puppet ballet" featuring The Tale of Jemima Puddle-Duck and The Story of a Fierce Bad Rabbit. The Facade Suite by William Walton provides a musical backdrop to the dancing characters wearing full-body costumes and masks. The program includes a demonstration in which children learn the various techniques of dance onstage. August 7 at 2:30pm. $12; $10 children and seniors. SUNY Rockland Community College, Cultural Arts Theatre, 145 College Road Cultural Arts Theatre, Suffern. 845-359-1006.
Thy Passport to Merriment Awaits
Check out jousting, human chess pieces, comedic acrobats, and loads of people who enjoy a fanciful interpretation of Elizabethan England when the 34th Annual New York Renaissance Faire opens for eight consecutive weekends starting August 6. 10am-7pm Saturdays, Sundays and Labor Day through September 25. Sterling Forest State Park, 600 Rt 17A, Tuxedo. 845-351-517.
Family Matters
Parents, grandparents, and caregivers are invited to participate in a series of workshops hosted by Childcare Resources of Rockland County (CCRR), beginning this month with "Saying Goodbye" on August 15. Facilitator Debbie Silver explores strategies for helping both children and parents cope with the first day of school. The series continues on September 21 with "How to Talk So Your Children Will Listen" presented by Ellen Mitchell. On November 22, Marcia Scheer talks about "Coping with Holiday Stress," and on December 7, Gwen Brown-Murray speaks on "Helping Children Resolve Social Conflicts." Sessions are FREE and will be held 7-8pm at 873 Route 45, Suite 103, New Hempstead. For more information, call 845-425-0009 or visit www.childcarerockland.org.
Girls' Day Out
Moms and their daughters are invited for a special craft event when Strawtown Jewelry hosts a Mother/Daughter Jewelry Workshop. Participants will learn about different jewelry tools and techniques and then make a bracelet or a necklace to take home. Advance reservations are required. August 20. 11:30am, 1:30pm, and 3:30pm. Make a Bracelet $20; Make a Necklace $25. Strawtown Jewelry, 40 South Main Street, New City. 845-358-4911.
For even more upcoming events in Rockland and the NYC area, visit our Online Calendar