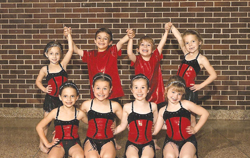 A Very Versatile Studio
Vicki's Studio, a dance studio that also houses the Kreative Kids toddler/nursery program, is now also home to Mylar Balloons.
Opened in September, Mylar Balloons provides customized balloon centerpieces, arches, and other decorations for parties and special events. Owner Vicki Giannetti's best known balloon creation is probably the 500-balloon arch she creates each year for her dance studio's annual student recital, which will be held June 13 this year.
Giannetti also added a new dance program to the studio's roster this past fall called the Dance Party Fun Class. This fun but structured six-week class introduces kids to different dances, like the Electric Slide, the Macarena, and the Hannah Montana Hoe Down Throw Down. "It works well for kids who want to dance but don't want to have a huge commitment," Giannetti says. A similar program for cheerleading is also offered. The dance studio offers a range of dance programs for ages 2 ½ to adult, including jazz, tap, hip-hop, modern, and ballet.
Vicki's Studio also hosts birthday parties, which include an hour of structured entertainment designed around the birthday child. Party themes include gymnastics, princess dress up, and Disney dance.
Vicki's Studio is located at 61 Maple Avenue in New City. For more information: 845-634-2202 or www.vickistudio.com.