PLEASE NOTE: This article was published in 2009. Some information may be outdated. Please call to confirm donation and/or volunteer information for the current year.
---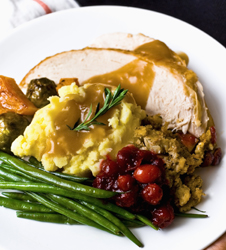 Want to do some good this Thanksgiving? The following places around Rockland need your help. Call ahead to confirm details.
People to People, Inc.
121 West Nyack Road, Nanuet
845-623-4900, x 213 for questions about donations, x 208 to volunteer
They run a Food Pantry at the address above. Volunteers must be at least age 13. Call to volunteer during any of the following hours. Monday, Tuesday, Wednesday, and Friday 9:30am-4:30pm; Thursday 9:30am-7pm. Special preholiday donation hours to take place November 14-15 and November 21-22 10am-2pm. People can donate food (that Thanksgiving bonus turkey!), gently used clothing, and/or unused toys.
150 Piermont Avenue, Nyack
845-358-3125
They provide Sunday suppers at 5pm each Sunday year round. To volunteer, call Gary
Hecht, 914-419-5450.
Seventh Day Adventist Church
South Broadway, Nyack
They host hot lunches each Tuesday, 10am-12:30pm. To volunteer, call Gary Hecht,
914-419-5450.
South Broadway, Nyack
They host hot dinners each Wednesday at 5:30pm. To volunteer, call Gary Hecht,
914-419-5450.
Franklin Street at High Avenue, Nyack
They host hot lunches each Friday at 11am. To volunteer, call Gary Hecht, 914-419-5450.
130 1st Avenue, Nyack
845-358-1297
Hosted by Helping Hands, this group based in Spring Valley helps organize food and shelter for homeless people in Rockland County. The seasonal soup kitchen will host a hot dinner and provide overnight shelter three nights a month in January, February, March, and April, 2010: January 9, 10, 11; February 20, 21, 22; March 28, 29, 30 and April 24, 25, 26. To volunteer, call the church and leave your name. Volunteers to help cook dinner must be at least high school age. Chaperones to stay overnight need to be 21 or over.
65 Washington Avenue, Suffern
845-357-1615
The church has been operating a soup kitchen since 1980. The soup kitchen is open every day, serving a hot meal from 11:30am-12:30pm. Lunch with Love offered every Tuesday. Volunteers from area churches and synagogues provide volunteers and food. Participants also get nutritional instructions targeted toward senior citizens (most of the audience for this program). The church accepts volunteers of high school age or older at the soup kitchen and its thrift shop. The thrift shop is open Monday-Saturday, 9am-1pm. It accepts gently used clothes and furniture only - no toys or strollers. The food pantry is open the second and fourth Thursday of the month, 10am-12 pm. Donations welcome.