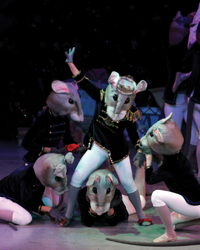 The Nutcracker, Close to Home
Seeing a performance of The Nutcracker is surely a special treat at Christmastime. Even if you don't celebrate the holiday, the music, dancing, and costumes are enchanting for children - and something we can only experience once a year. And although fancier productions can be seen on television, Rockland County residents can enjoy a live show when the Rockland Youth Dance Ensemble (RYDE) presents its 29th annual performance of The Nutcracker this month at SUNY Rockland Community College.
Under the artistic direction of Diane Frankel, RYDE will present the story of young Clara, who receives the gift of a beautiful nutcracker from her godfather, Drosselmeyer, at a Christmas Eve party. As midnight arrives, the family's Christmas tree grows and the toys underneath magically come to life, setting the stage for a child's fanciful dream full of life-size mice, beautiful toy soldiers, and lovely dancing snowflakes.
Those who have seen this performance before may recognize Bill Hastings, who returns as Drosselmeyer, and Milan Misko, who performs as the Cavalier in the Grand Pas de Deux. Terri Klausner repeats the roles of Mother Gigogne and Head Maid.
Local residents may also recognize Frankel from the Coupé Theatre Studio in Nanuet, where she is the studio director. Originally from England, Frankel had danced all over Europe and was an original cast member in 11 Broadway musicals before opening her studio in 1970. She has taught and mentored area dance students for nearly 40 years.
RYDE presents numerous performances this season, so there will certainly be something for everyone to enjoy.
Info:
Where, when, and how much: Performances of The Nutcracker at SUNY Rockland will be held on Friday, December 11, at 7pm, Saturday, December 12, at 3 and 7pm, and Sunday, December 13, at 1and 4pm in the school's Cultural Arts Theatre. $20.
Additional full-length performances by RYDE's Junior Company can be enjoyed on Saturday, December 5, at 3pm, and Sunday, December 6, at 1 and 4pm at Clarkstown High School South in West Nyack. Performances at 1 and 3pm both weekends are popular with young audiences, as the ballet is narrated with the story of The Nutcracker as the ballet is performed on the stage. $18 and $20.
RYDE will present a Special Audience Performance of the show on Saturday, December 5, at 7pm, in the Clarkstown High School South auditorium in West Nyack. This annual show for senior citizens and physically and mentally challenged residents of Rockland features a free "Sweets Reception" at intermission, named for the journey Clara takes to the Land of the Sweets in the second act, introducing the Sugar Plum Fairy. Tickets for this performance are available only through senior citizen centers and organizations with active membership among seniors and the physically and mentally challenged from Rockland.
RYDE also provides performances for residents and staff at Helen Hayes Hospital in Haverstraw. This year's excerpts from The Nutcracker will take place on Monday, December 7, at 6pm in the hospital's atrium. The general public is welcome to attend. FREE.
For more information: 845-624-RYDE (7933)
For more holiday activities and events for kids and families, check out our Rockland Calendar Highlights for December.