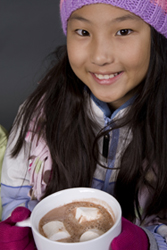 With festive lights and decorations adorning storefronts and downtown streets, snowflakes swirling against scarves and overcoats, and a feeling of goodwill in the air, there's no denying the magic of the holiday season. But this time of year also brings the gift giving season, and with it the stresses of holiday shopping. Take a break from the hustle and bustle to sit down with a cup of hot chocolate or tea. There's just something about wrapping your hands around a steaming mug of cocoa that helps you regain perspective, recharge your spirit, and reconnect with the people that matter to you.
Whether you're looking for a cozy spot for afternoon tea or a quick and creamy treat for your little one, our guide will point you in the right direction.
Check out our other area guides: Fairfield County, CT; Manhattan and Brooklyn; Nassau County, Long Island; Queens; Suffolk County, Long Island; and Westchester County.
ROCKLAND COUNTY
Lulu's Café is a retro-style family spot with a full menu of teas, hot chocolate, and meals. It carries both traditional teas and seasonal flavors like apple and pumpkin ($1.75-$1.95), as well as chai latte ($3.50) and hot chocolate ($2.95). 726 West Nyack Road, West Nyack. 845-358-5822. www.luluscafeny.com.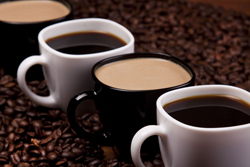 Temptations Café is a rustic and cozy spot, and is also stroller-friendly. They serve about 25 varieties of tea, including Earl Grey, English breakfast, jasmine, lemon ginger, chamomile, peppermint, and licorice ($1.25-$2.25). Their hot chocolate is topped with whipped cream, chocolate syrup, and chocolate chips ($2.95-$3.75). They also have a full menu of soups, sandwiches, and sundaes. 80 1/2 Main Street, Nyack. 845-353-3355. www.temptationscafe.com.
The Art Café of Nyack offers a wide selection of hot beverages. There are organic, herbal, and black teas, as well as specialty teas ($2-$2.50). They also have a chai latte ($3-$3.50), and traditional hot chocolate ($3.15-$3.65). Try their steamer - a hot drink that comes in flavors like caramel and vanilla ($3.15-$3.65). 65 South Broadway, Nyack. 845-353-4230.