Related: ice skating, skating, skating rinks, arenas, outdoor rinks, indoor rinks, NY, Rockland, Rockland County, children, kids, families, outdoor activities, winter activities, sports, recreation,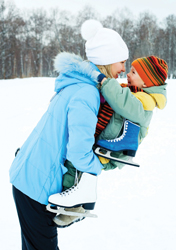 It's that time of year again: Time to lace up your ice skates and hit the ice. Here's the scoop on nearby rinks:
Bear Mountain State Park, Palisades Parkway/Route 9W North, Bear Mountain. Open until March 7. Monday, Tuesday, Wednesday 10-11:30am, 12-1:30pm; Friday 8-9:30pm; Saturday-Sunday 10-11:30am, 12-1:30pm, 2-2:30pm, 4-5:30pm, 6-7:30pm; Saturday night 8-9:30pm. $4 ($5 after 6pm); $3 ($4 after 6pm) children under 12; $2 non-skaters and seniors; $4 skate rental; $7 parking per car. 845-786-2701; www.palisadesparksconservancy.org/parks/5/.
Palisades Center Ice Rink, 4900 Palisades Center Drive, West Nyack. Monday 11:30am-2:30pm; Tuesday 11:30am-1pm; Wednesday 10am-2:30pm, 2:45-4:45pm; Friday 11:30am-2:30pm, 7:45-9pm; Saturday 2:20-3:40pm, 5-6:20pm; Sunday 1:10-2:40pm, 4-5:20pm. $7; $5 under age 10; skate rental $3. Ten-visit punch cards and season passes available. 845-353-4855; www.palice.com.
Sport-o-Rama, 18 College Road, Monsey. Wednesdays (until February 25) 4-5pm; Fridays (until February 28) 2-3:45pm; Saturdays (until February 28) 1:30-3:15pm, 9-11pm; Sundays (until March 1) 2:55-4:30pm. $8; $3 skate rental. Please note several schedule changes from last year. 845-356-3919; www.sportorama.com.
Ice-skating is also available at the following parks, on the ponds when they have frozen. A green flag will be posted at the ponds if it is safe to skate. A red flag will be posted when it is not safe to skate. For more information on skating at the parks, call ahead.
Children's Park, 11 Grotke Road, Chestnut Ridge. 845-357-6100.
Eugene Levy Memorial Park, Route 45 and Joys Road, Pomona. 845-357-6100.
Kings Park, Parkside Drive, Congers. 845-639-6200.
Rockland Lake State Park, Route 9W, Congers. 845-268-3020.
Sparkill Skating Rink, Corner of Ferdond and Valentine Roads, Sparkill. 845-359-5100.
Veteran's Memorial Park, Hunt's Lane, Orangeburg. 845-359-6503.
Also see our Round Up of Rinks in Manhattan.
---
Get Your FREE Indoor Activity eGuide!
---
More News & Tips: Sports Articles
Help Your Child Choose the Right Extracurricular Activities
Rockland Soccer Academy to Offer Lessons in New City
Triathlons for Kids: How to Get Them Race-Ready
Where to Find New York-Area Mini Golf Courses
Where to Go Horseback Riding in the NYC Area

Be a good fellow parent and share this with a friend who would be interested
Local News & Tips: Sports Sponsors
See Our News & Tips: Sports Directory