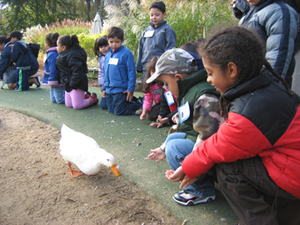 Embrace the warmer season by paying a visit to a zoo or nature center in Rockland Countyor Orange County, NY, many of which offer outdoor, nature-based activities for kids and adults alike. There's already plenty in bloom at area botanical gardens, with sights and smells for all to enjoy. If you're looking for something less structured, leave your plans behind for the day, pack up the family, and head to the park where you can lay out a picnic, play a game of catch, or just soak in some rays (don't forget the SPF!) on the newly sprouted grass.
Our guide has all the information you need for a fun family outing to celebrate the great outdoors. So, if you've thawed out enough, put a spring in your step and hop to some seasonal fun at any one of the locations below.
Rockland County, NY
Cornell Cooperative Extension of Rockland Education Center
10 Patriot Hills Drive, Stony Point
845-429-7085
The Master Gardener Volunteers of Rockland County design and maintain eight demonstration gardens at the CCE Rockland Education Center, including ferns, herbs, ornamental grasses, native plants, a cutting garden, and a container garden. The Master Gardener Volunteers hold a free tour of the gardens at 1pm on the last Sunday of the month, April through October; children are welcome.
- In May, CCE Rockland will hold its Junior Master Gardener program for children ages 8-12. For more information, contact Donna Cooke at 845-429-7085, ext. 108.
Matterhorn and The Gardens at Matterhorn
227 Summit Park Road, Spring Valley
845-354-5986
Hours: Open Monday-Saturday 8am-5pm; Sunday 10am-5pm. Prices for gardens: $5; $4 seniors; $2 children 12 and under; free children under 3.
This nursery and garden center has award-winning gardens to explore, including the Formal Garden, Fern Garden, Hosta Garden, and Folly Garden. The Garden Center Village, consisting of 38 acres of display gardens, natural ponds, and shops, is reminiscent of a European village.
Route 9W, Congers
845-268-3020
Hours: Open dawn to dusk. Parking is $6 from mid-April through late October.
Rockland Lake State Park's lake is located on a ridge of Hook Mountain, above the west bank of the Hudson River. It is home to many species of fish, including largemouth and smallmouth bass, and birds such as raptors, water birds, and songbirds. The park has a 3.2-mile walking path. The pool will open June 25.
Orange County, NY
Bear Mountain Trailside Museums and Zoo
Bear Mountain State Park, Palisades Parkway and Route 9W
845-786-2701, ext. 265
Hours: Open daily, 10am-4:30pm. Price: FREE; donations appreciated. Parking is $7.
Enjoy paved walking trails, scenic views of the Hudson River, and learn about animals native to New York state. All the animals are either permanently injured or orphaned and would not be able to survive in the wild. Trailside has four museums. The Reptile and Amphibian House is home to turtles, snakes, frogs, toads, salamanders, and skinks, as well as many species of fish. The Nature Study Museum houses specimens originally created by the Museum of Natural History to educate people about animal identification. Visitors can learn about geologic formations of the Hudson Highlands in the Geology Museum and local Native American and early settler culture in the History Museum.
Hudson Highlands Nature Museum
Outdoor Discovery Center, 100 Muser Drive, across from 174 Angola Road, Cornwall; 845-534-5506
Wildlife Education Center, 25 Boulevard, Cornwall-on-Hudson; 845-534-7781
Hours: Trails are open daily, dawn to dusk. Price: FREE.
The nature museum includes the two centers, 1.5 miles apart, along with pond, field, and woodland Quest hiking trails. Discovery Quests are interactive hikes utilizing Quest Guidebooks ($5 each; can be shared) with hidden messages for each hike. Quests are open on weekends through the end of November. The Quest Vistor Center is open Saturday and Sunday 9am-4pm.
- The museum also offers exhibits, nature programs for children and adults, an evening speaker series, and the Summer Nature Camp (June 27-August 19) for children ages 4-15.
116 Old Forge Road, Tuxedo
845-351-5907
Hours: Open daily from dawn to dusk; the Visitor Center is open daily from 8am-4:30pm. Price: FREE.
The park offers a variety of hiking trails with scenic views of hills, valleys, and lakes. The Senator Frank R. Lautenberg Visitor Center overlooking Sterling Lake features exhibits about the local environment and history. On weekends, the park offers walks and talks led by park educators and rangers. Educational programs for school groups and other organizations can be arranged by appointment.
See our complete guide: Zoos, Nature Centers, and Botanical Gardens in the New York Metro Area