Art Adventure, an art studio that offers art classes for children in Rockland County, recently opened. The studio helps children develop art skills in unique mediums such as street art and pixilation.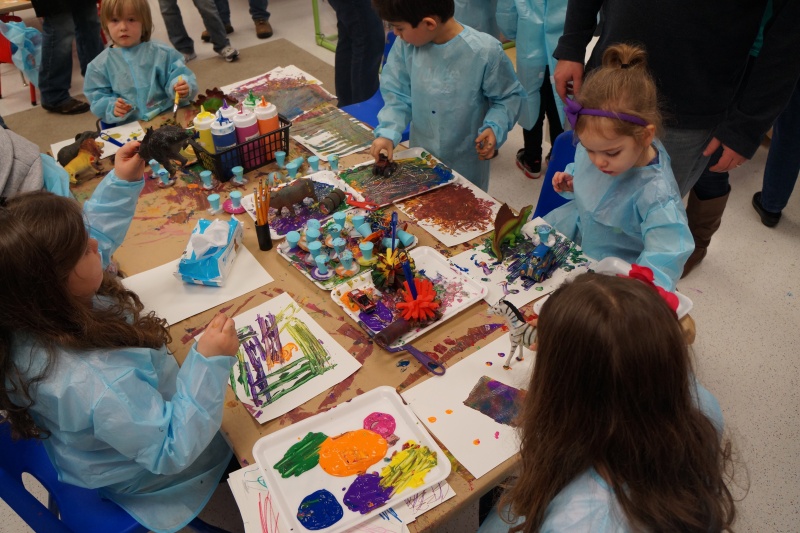 Children paint pictures with unique tools, such as sponges, plastic animals, and toy cars.
On Jan. 13, Alysson Burgos and Eric Stormes opened Art Adventure to enrich children's lives by teaching them the fundamental principles of art. Art Adventure helps students develop skills in drawing, painting, printmaking, sculpting, street art, pixilation, as well as other areas.
Art Adventure uses unique themes that children won't likely encounter in other art studios to stimulate their creativity. Themes, such as the study of video game art, street art, and monsters, are used as a medium to provide children with a fine arts education. "A lot of the art that I've encountered is very rigid. Everything has an anticipated outcome," Stormes says, Art Adventure's resident artist who has been teaching art for nine years. "I designed the courses so a lot of the decisions are made by the students. We guide them through that process, but their outcome is of their own design."
Art Adventure offers a variety of classes, including a preschool program for children ages 2-5, art classes for students ages 5-18, and a once-a-week class in which an adult works collaboratively with a child to create a piece of art. Art Adventure also hosts events, such as birthday parties, special occasion parties, and parent's night out where food, entertainment, games, and art are provided for children while their parents get two and a half hours to themselves.