Beth Am Temple, which offers Jewish religion classes in Pearl River, now offers a free early childhood Jewish education class at its religious school.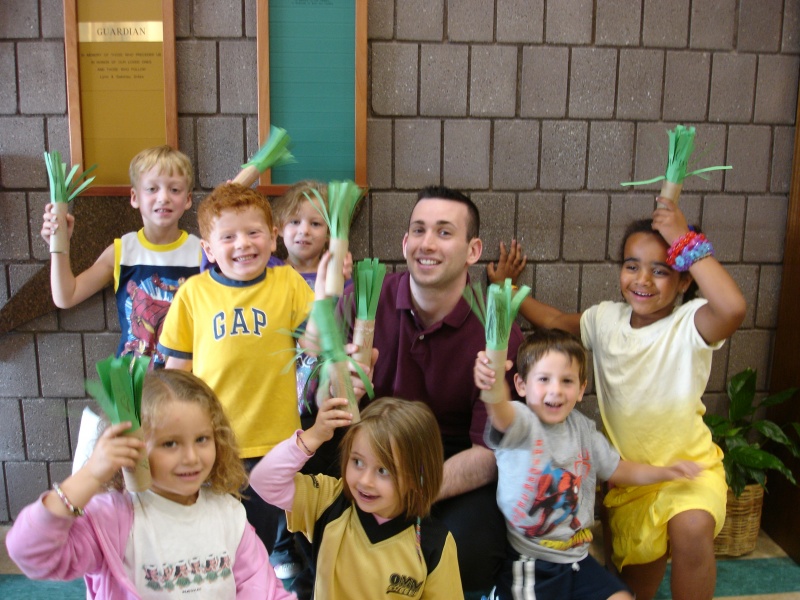 Kindergartners in Beth Am Temple's religious school made lulav shakers for Sukkot with teacher Brian Weil.
Yaldeynu: Our Kids! is Beth Am Temple's new early childhood education program for children younger than kindergarten age. The class, which meets one Sunday per month throughout the school year, teaches children about Jewish culture, traditions, and holidays through music, stories, movement, games, and arts and crafts. Each hour-long session is themed, usually based on an upcoming holiday—the November class was about Hanukkah.
"We enjoy providing a Jewish education to children and are really happy to be now offering the early childhood program at no cost to the community," principal Marian Kleinman says. "We think it's an important goal to raise our children with pride in their religion and heritage."
Early childhood teacher Brian Weil, who also teaches kindergarten and first grade at Beth Am Temple's religious school, creates each lesson plan specific to the theme of the class. "He was a student at Beth Am himself," Kleinman says. "He has taught for us for many years and the kids love him."
Yaldeynu: Our Kids! is free for members and non-members in Rockland and Bergen counties and no registration is necessary. A caregiver must remain with each child during the class. The program currently has classes scheduled for Jan. 12, Feb. 9, March 16, April 6, and May 4, from 10-11am.