Indoor family play space Billy Beeze will open in the Palisades Center this fall. The family activity center features large rainbow wave slides, over-sized trampolines, soccer, basketball, and dodgeball courts, and a climbing wall that is safe for all ages. Billy Beeze also offers a café and can host large group outings.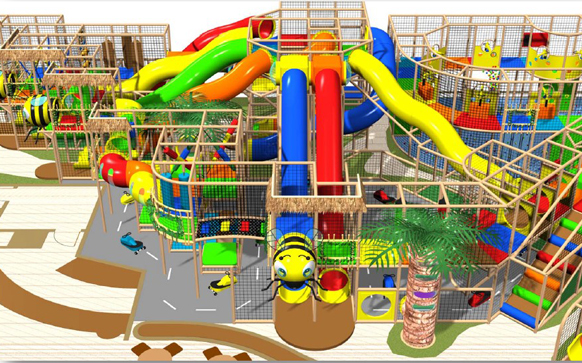 A graphic rendering of the play area at Billy Beeze
Billy Beeze, a 26,000-square-foot play space, is scheduled to open in the Palisades Center by the end of October. The bright and colorful murals of the rainforest and jungle make this a fun and exciting destination for a family adventure. The attractions include large rainbow wave slides, over-sized trampolines, a sport court to play soccer, basketball, or dodgeball, and a unique safe climbing wall made especially to prevent injury. Billy Beeze is a family experience, offering a play space big enough for both children and parents to create memories together.
There are no electronic games at Billy Beeze because keeping children physically active is the play space's goal. Children can run and play in the large play space while making new friends and spending time with their family. While children are playing, parents can lounge and drink a coffee or beverage, and when the family is ready, they can enjoy a meal at the Billy Beeze café.
Catered celebrations including birthday parties, school group outings, and sports parties are offered in one of the two spacious rooms holding up to 50 guests, or up to 100 when the rooms are combined. A Billy Beeze gift shop will open in January.