Clarkstown Theatre Company recently opened its acting school in New City. The company offers theater classes and programs for kids in Rockland County, as well as a performing arts summer camp.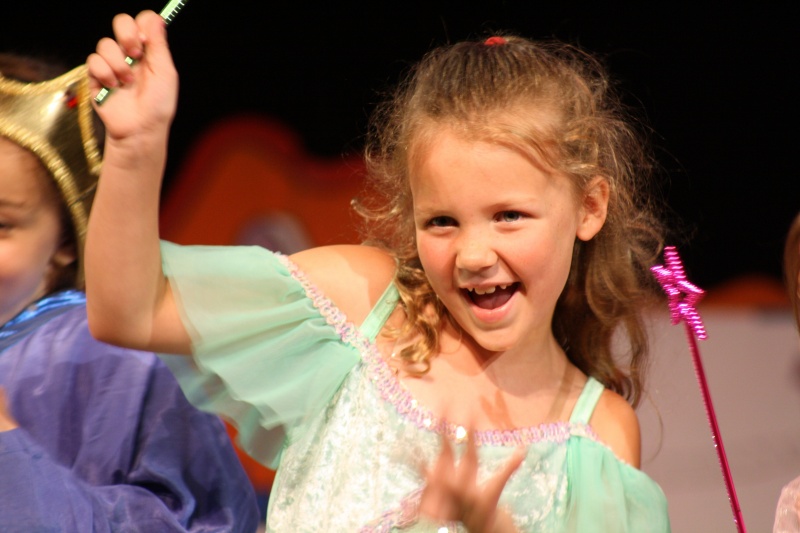 A young girl practices her super powers in an
acting class for third through fifth grades.
Clarkstown Theatre Company, a new husband-and-wife owned acting school in New City, opened and began offering its classes in September. Classes are available Monday-Thursday for children in preschool through eighth grade, grouped according to age, and have a maximum enrollment of 10 children. The theater company also offers private coaching to children who need to prepare for special events, such as presentations, speech contests, and auditions.
"Theater is about exposing yourself, about showing human connections that we all have," says Laurie McDermott, who co-owns Clarkstown Theatre Company with her husband Rick Poulin. "I want to let [children] realize that they have a valid voice. It is welcomed. And it is incredibly entertaining to see the truth from these kids, how they feel and what they feel on stage."
The goal of the acting school is for each child to learn the craft of acting in a positive and exciting environment. The class offers children the opportunity to become fully involved in production process, share their own views, and be more truthful on stage by writing, performing, and designing.
McDermott says they aim to offer a weekend class during their next session, which starts in late January, and a summer camp. The camp will consist of 20-25 students who will create an original script or adapt an existing one, design the set, and make the costumes. The play will then be performed for the community.