Our roundup of fun and free/low-cost things to do with kids in Rockland County, NY, this September also includes several noteworthy events just across the border in Bergen County, New Jersey. Get details on fall fairs, Lighthouse Day, a Princess Ball, and more.
Sept. 8
Canines for a Cause
Dogs and their families are invited to walk in Meals on Wheels of Rockland County's first-ever Wags for Wheels fundraiser in Pearl River. Proceeds will help the agency provide meals and transportation for homebound seniors as well as establish a pet food pantry for seniors who can't afford to feed their pets.
Sept. 9
Lighthouse Day
On Sept. 9, Stony Point Lighthouse and Battlefield hosts a celebration of lighthouses on the Hudson River with stories, songs, and a costumed interpreter portraying a lighthouse keeper.
Street Fairs and Festivals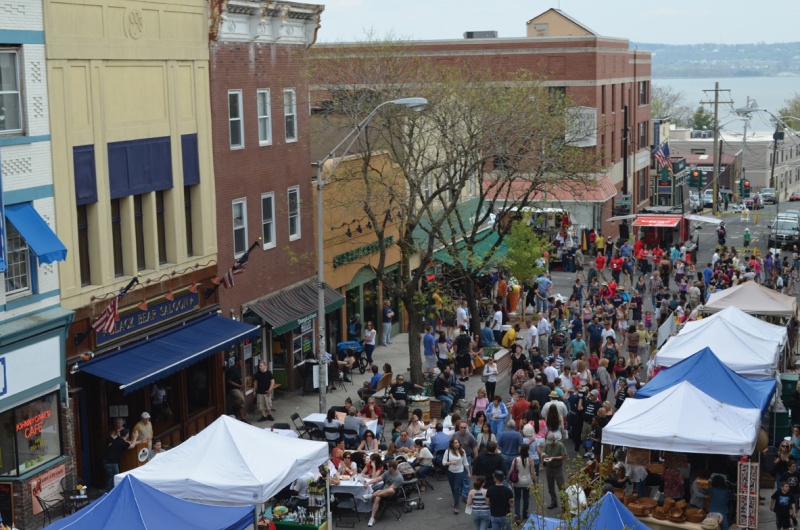 Don't let back-to-school season bring your kids down. September is full of FREE street fairs and festivals to look forward to on weekends:
Sept. 2: The fun starts with the New City Street Fair on Main Street in New City.
Sept. 9: The following weekend, the Nyack Street Fair (pictured) takes over the town known for its antiques shops and general charm.
Sept. 16: Across the county is the Suffern Street Fair, which will feature food, crafts, local vendors, music, pony rides, and bumper car rides for kids.
Sept. 30: Finally, pizza and pasta will surely be on the menu at the annual Congers Italian Festival in Congers Station Park.
Sept. 14-15
Meet Madeline
Little ladies can meet the classic children's book character Madeline and hear one of Ludwig Bemelmans' tales about the mischievous girl from Paris at two special story times at Barnes & Noble in West Nyack: Sept. 14, Sept. 15.
Sept. 21
Royal Fun
Little princesses are invited to meet and greet their favorite big princesses when the New Jersey Children's Museum in Paramus hosts a Princess Ball. Children and their parents can also enjoy a hot dinner, beverages, and dance with DJ Polka Dot. Reservations are required.
Sept. 30
Fun in a Hut
Tots can learn about the Jewish holiday of Sukkot and celebrate this fall festival, during which families eat their meals in a hut, with the Bossy Frog Band at Sukkot-A-Pallooza in Upper Nyack. Holiday-themed activities include arts and crafts, face painting, and cookies.
Sundays in September
It's Apple Season!
Celebrate the start of fall with a cider-making workshop, where you'll make your own cider and learn about the history of apple cultivation, held each Sunday at the Tenafly Nature Center in Tenafly, NJ.
Also see:
Where to Go Apple Picking in the Rockland Area
Our full calendar of events, for even more kid-friendly activities in the NYC area