The Historical Society of Rockland County hosted a High School History Conference on April 9 and awarded Rockland honor students based on their presentations.
The Historical Society of Rockland County hosted a High School History Conference on April 9, a daylong gathering held at the Comfort Inn in Nanuet, NY aimed to bring together high school history honor students, their advisers, and the social studies chairpersons from all of the Rockland County High Schools.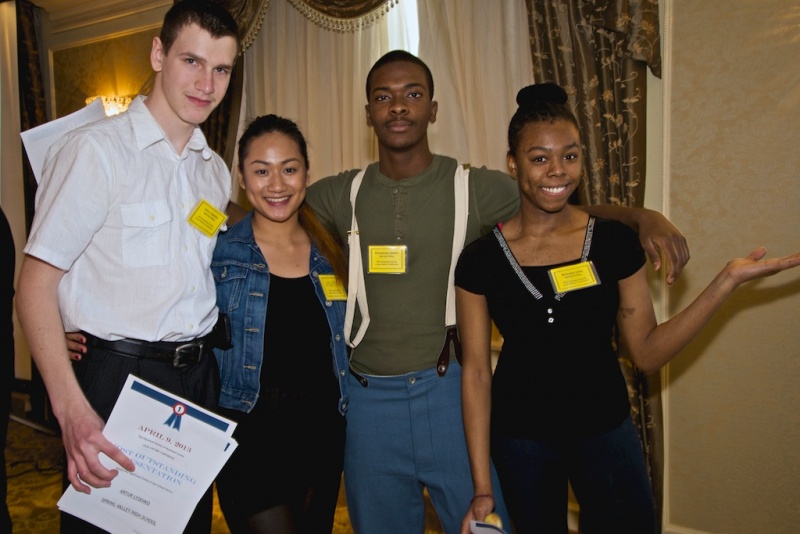 Spring Valley history honor students captured the best presentation award at the Rockland County High School Local History Conference sponsored by the Historical Society of Rockland County.
County historian Craig Long, county executive C. Scott Vanderhoef, district attorney Tom Zugibe, and senator David Carlucci addressed invited guests. Keynote speaker Linda Zimmermann, author of "Rockland County: A Century of History." Zimmermann concluded her thought-provoking and charismatic remarks with the following takeaway: "HISTORY = YOU + TIME."
"We are delighted to have organized an event which offered a time and place for our county's high school students and their instructors/advisors to share ideas with one another," said Larry Singer, event co-chairman and Historical Society trustee.
In addition to addresses from historians and dignitaries, the students prepared short presentations for their peers about historic places in their towns and villages, including photo montages, videos, and even a short play.
The outstanding presentation award went to Spring Valley High School. Also, at the event, the HSRC provided ideas about opportunities for community service for the students in the various geographic areas of Rockland County that relate to history. Municipal historians and local historic sites were invited to assist in suggesting these community service opportunities.
Participating schools in the conference were as follows: Albertus Magnus, Clarkstown North, Clarkstown South, Nanuet, North Rockland, Pearl River, Ramapo, Spring Valley, Suffern, and Tappan Zee.
After the students' presentations, Catherine Quinn, former HSRC trustee noted, "Today was perhaps the one single day in my six years as a trustee of the HSRC that makes me most glad to be a member and former trustee of this organization. Today I saw the possibility of new generation that can take on the mantle. It was inspiring to listen to these high school students. We could hear their enthusiasm and passion as they described what they uncovered about the history of own neighborhoods."
In his closing remarks, county historian Craig Long said: "After being here today, I'm stoked. You have inspired me and given me great ideas. When I come back here next year I hope I will have implemented the things you suggested to me today."
For more information about the High School History Conference, visit rocklandhistory.org or call 845-634-9629.