West Nyack-based JCC Rockland is expanding its dance program by welcoming Debi Klein as an instructor and is adding a musical theater program for kids of all ages in Rockland.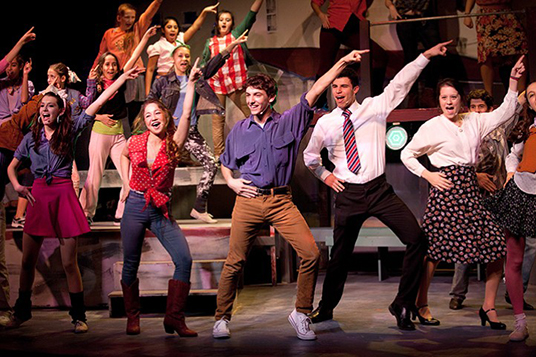 Laurie Walton will direct a teen production of Footloose at JCC Rockland.
JCC Rockland is expanding its dance program by bringing in Debi Klein from Debi's Dance studio to instruct classes. In addition, it is partnering with the Riverdale Y to launch a new musical theater program for children and teens.
The dance programs now include preschool ballet, hip-hop, tap, jazz, lyrical, and Broadway jazz. "Debi Klein has been running her own dance studio for 39 years," says Monica Rosenbaum, director of children and family services. "Adding her will take our programs to the next level." Classes begin the week of Sept. 15 and run for 10 weeks. They take place once a week from Monday-Thursday and are 1-1½ hours depending on the age group and specific dance program. Classes cost $150-$250 depending on length and a student's membership status.
The new musical theater program has one main stage production that takes place Jan. 10, 11, 17, and 18. It consists of mini-stars (kindergarten to second grade), junior-stars (third to sixth grade), and teen-stars (seventh to 12th grade). Mini-stars are the opening act, junior-stars are the intermission, and teen-stars are the main stage production. Sign-up for teen-star auditions, although everyone is guaranteed a part, is Sept.11.
Rehearsals for all ages start Oct. 5. Mini-stars have rehearsals on Sundays from 2-3pm, junior-start on Sundays from 3-5pm, and teen-stars on Sundays from 5-7pm and Tuesdays from 4:30-6:30pm. The theater program costs $300-$725 depending on age and membership status.