Kupchik Dental, which just opened in West Nyack, is a family dental practice that "caters to coward and children." With many services available, including Invisalign, root canals, regular cleanings, and state-of-the-art equipment, and convenient hours, Dr. Kupchik has a lot to offer Rockland County residents.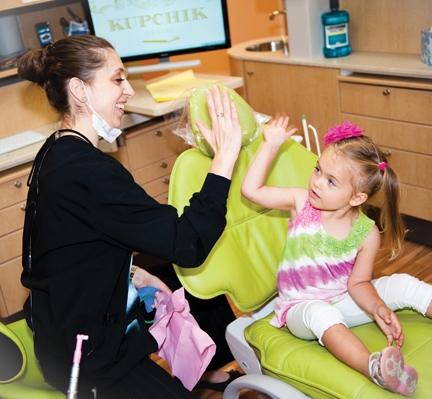 In the market for a new family dentist? The friendly dentists of Kupchik Dental moved into West Nyack in June. Kupchik Dental, run by Anna Kupchik, D.D.S., has a lot to offer the residents of Rockland County. Since the office is new, all of its state-of-the-art equipment is only as old as the practice and dentists and patients benefit from safer equipment that use less radiation due to new innovations in dental technology.
Kupchik Dental has a warm environment that works well with kids and adults alike. They practice gentle dental procedures, proudly proclaiming in their mission statement that they "cater to kids and cowards."
Along with traditional cleaning, consults, and procedures, Kupchik Dental also offers specialized treatment in several areas, including Invisalign, root canals, dental reconstruction, teeth bleaching, and crowns. Ever chip a tooth at midnight and have nowhere to go? Kupchik Dental offers a 24-hour emergency line for an immediate appointment to fix any dental problem.
For particularly busy families who simply have no time during the week, Dr. Kupchik and her associates have Sunday appointments available as well.