Mania Training Facility recently moved to a new location in Rockland County. Along with their cheer and dance teams—taught by certified staff—and birthday parties, Mania now offers adult fitness classes.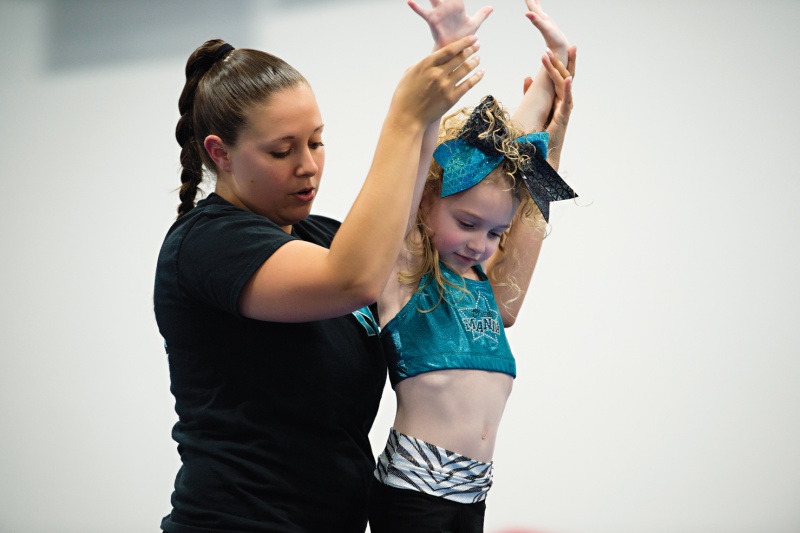 Coach Kerry Stancarone instructs
Kayleigh Croyle on the proper position
before her cartwheel.
Mania Training Facility has offered competitive cheer to boys and girls ages 4-19 for the past 10 years and recently made the move to a brand new facility in Rockland County. Their new location features 6,000 square feet of fully air-conditioned training space and a viewing area for parents to watch their children during classes and practices. Mania moved to the new location in June, bringing its beginner, intermediate, and advanced flyer and tumble classes, along with some new fitness classes. The facility now offers hip-hop, Zumba, yoga, and other cheer and fitness related classes to parents.
"Cheering isn't about pom-poms and singing anymore—it's very involved," says Andrew Neiderman, marketing coordinator at Mania Training Facility. The numerous cheer and dance teams are coached by certified staff and are separated by ability. For new members of the teams, Mania offers an hour of tumbling each week.
Along with the many classes and teams Mania offers, it also hosts birthday parties for children who are interested in having a cheer, dance, or obstacle based party. Birthday parties last about an hour and a half, with a great amount of the time dedicated to using the equipment in the facility or learning a full cheer routine with friends.