Bounce! Trampoline Sports hosted Produce Pete, aka Pete Napolitano, a regular guest on Weekend Today on WNBC in New York to teach kids about eating healthy on Feb. 7 as part of the "Have Fun Get Fit" program.
Produce Pete paid a visit to Bounce! Trampoline Sports on Feb. 7 to speak to the kids about how to choose fruits and vegetables and how to know what's ripe and in season and what isn't as part of Bounce!'s new "Have Fun Get Fit" program. Did you know you should stand a pineapple upside down so the sweet juices run all the way through?

The workshop was one in a series of free "Healthy Living Workshops" being provided by Bounce! Trampoline Sports as part of its holistic and comprehensive approach to staying healthy.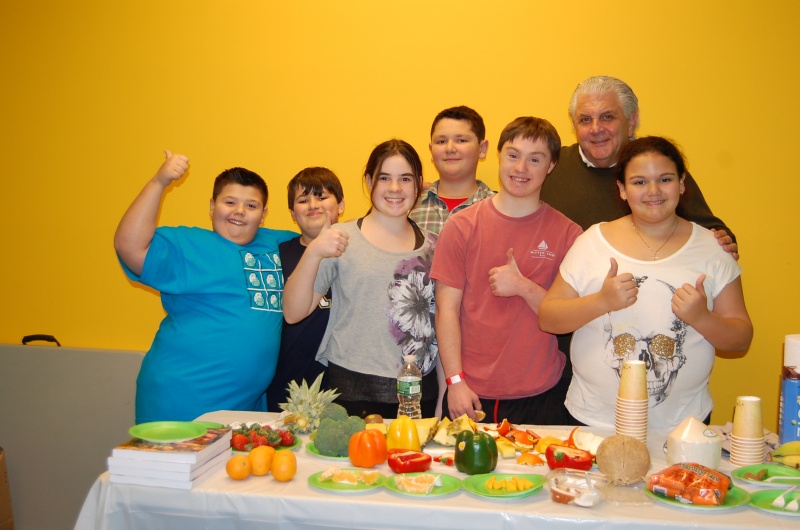 Risa B. Hoag
"We love that people come to Bounce! to burn off calories and get some exercise, but we believe being healthy also includes eating right and understanding your body so we created the "Have Fun Get Fit" program for teens and have added free workshops on a variety of healthy subjects," says Danny Fried, co-owner of Bounce! The workshops are open to the public free of charge.
Upcoming workshops include:
Monday, Feb. 11: "Personalized Health and Weight Loss/Maintenance Solutions"
Dr. Michael Wald, nicknamed the "Blood Detective," will teach attendees exactly what blood tests and other tests to ask your doctor for to get to the bottom of persistent weight problems. Diabetes, heart disease, growth issues, and neurodevelopmental and learning issues may be made worse by poor diet. Lab work can help uncover hidden clues that can be used to create a simple, effective diet and lifestyle solution.

Thursday, Feb. 21: "How Everyday Toxins Keep You From Losing Weight and What You Can Do About It"
Dr. Michael Cocilovo will address how we take in toxins every single day through the food we eat, products we use, and air we breathe. He'll explain how to reduce the toxins we consume and techniques for staying healthy.

Thursday, March 7: "Treating and Reversing Type 2 Diabetes"
Diabetes is a rampant epidemic that can be treated simply and even reversed. Come hear Dr. Michael Cocilovo explain the facts that the medical establishment doesn't tell you.

Also coming in March is a stress reduction workshop with Drs. Michael Cocilovo and Gil Rodriguez of New City Chiropractic Center.

For more information on the upcoming workshops visit bounceonit.com. Bounce! Trampoline Sports is located at 612 Corporate Way in Valley Cottage, NY off Route 303, just 2 miles north of the Palisades Center Mall.
For questions call 845-268-4000. Become a fan of their Facebook page and follow them on Twitter. Bounce! Trampoline Sports is a 25,000-square-foot facility offering all ages the opportunity to play sports, have fun and get fit on enormous courts of interconnected trampolines, offering aerobics and acrobat classes, Bounce! Boot Camp, dodgeball games, slam dunk basketball, school and camp trips.