Tappan Zee High School students of Rockland County volunteer to help the less fortunate at a soup kitchen in Nyack, NY.
If you ask most members of the Blauvelt Lions Tappan Zee High School Leos, they'll say the most satisfying type of community service activities involve feeding those who are less fortunate. These club members have spent hundreds of hours over the last few months volunteering in soup kitchen programs, running a food drive, and volunteering in the Safe Haven program to feed the homeless in Rockland County.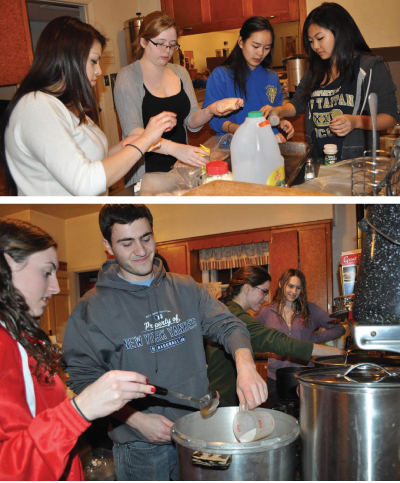 Over the last few months, more than 50 Leos have volunteered at the Soup Angels Soup Kitchen in Nyack, helping to serve meals to as many as 70 visitors each evening. The Leos also ran a food drive at Tappan Zee High School, collecting more than 1,300 pounds of non-perishable food, which was donated to People to People, Rockland's largest food pantry.
In December, more than 40 Leos participated in a Midnight Run into New York City to bring food, clothing, and toiletries to the homeless. On Jan. 31, more than 30 Leos gathered to bake cookies and make pasta sauce in preparation for their participation in the Safe Haven program. The following evening, 18 members of the Leo Club prepared and served a dinner of pasta, chicken, mashed potatoes, and cookies to more than 20 homeless members of our county at the Piermont Reformed Church.
"These are very rewarding experiences for the Leos," says club adviser Tricia Castelli. "They are particularly drawn to this type of community service activity as they feel real gratification when they are able to interact with those they are helping and see the importance of what they do in the smile or heartfelt 'thank you' they receive from someone they have helped."
As many as 50 million Americans rely on charitable food programs to meet some part of their basic food needs. A new nationwide campaign launched last month called Take Your Place provides actions people can take on a national and local level to help end hunger and food insecurity in America. Learn more at nymetroparents.com/typ.
Also see: