Counterstrike, a women's self-defense workshop created by Arnold van Deuran, Ph.D., director of Workout Place, is now offered to women in Bardonia. The self-defense class for women in Bardonia teaches young women the skills they would need to fend off an attacker.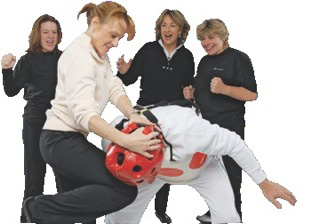 Arnold van Deuran, Ph.D., director of Workout Place, has been building a self-defense class tailored to women's abilities and needs for 20 years. His workshop, CounterStrike, is available for interested participants starting in May.
Van Deuran interviewed women who were victims of an attack and based his workshop off of their responses. He says the workshop is especially appropriate for girls going to college and high school girls as they mature, as well as women at home and professionals.
Van Deuran is the director and instructor of the Workout Place, a taekwondo studio that offers martial arts and fitness programs and specializes in education and child development.
"I do programs that help students achieve full potential and social, emotional, and physical development," van Deuran says.
CounterStrike covers everything a woman needs to know about personal safety. The program is tailored to women's actual abilities and needs, van Deuran says.
Right now, the workshop time is based upon interest; he needs six or more people to hold a workshop. Individual registration is $35 or $30 per person for a group of three or more.
Van Deuran hopes to be able to offer CounterStrike on a monthly basis, specifically Tuesday nights. He is also willing to present the workshop outside the studio to interested organizations.