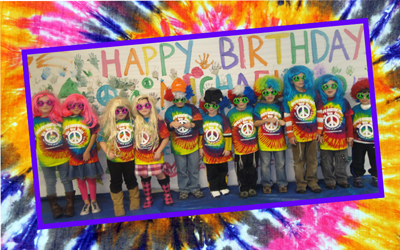 Tie Dye Town, a special events venue that offers creative, hands-on art parties, opened its first Rockland County, NY location in late March.
Owner Andrea Dworkin, a New Jersey mom who worked in Manhattan as a children's fashion designer for more than 15 years, opened the business' first location after noticing a gap in the market. "Having children of my own, I realized there was a need for parties like this, where kids can really use their creativity and get messy," Dworkin says. The business expands to New City from two locations in New Jersey, four in Manhattan, and one in Queens.
Tie Dye Town offers several party packages for birthdays, bar/bat mitzvahs, school groups, and other special events, including the World's Greatest Tie Dye Party (ages 3 and up) and a Messy Art Party (ages 2 and up). Parties offer a variety of arts and crafts activities, including painting, spin art, and, of course, tie-dying. Guests take home all their own artwork along with a goody bag. Themed parties and extras are also available, including tie-dye cupcakes or cake.
In addition to parties, Tie Dye Town offers Messy Art Classes on an eight-week schedule.
Tie Dye Town is located at NY Dance Sport, 61 S. Main Street in New City, NY.
Also see: Our Birthday Party Resource Guide for Rockland County and the New York metro area