Have you ever wondered what it would be like to get lost in a giant forest of grass, swoop through exotic flowers on the hunt for pollen, or relax in a honey hive? Billy Beez will take you on this fantastical journey. Our indoor playground is designed with vibrant colors, whimsical murals, oversized tangled vines and plants, and dramatic lighting. We've created an atmosphere we're certain you'll want to enjoy together as a family again and again.
Come see what all the BUZZ is about!
Rainbow Wave Slide
Our signature Rainbow Slide is the wildest wave you can ride without getting soaked! Race your friends climbing to the top of the slide platform and then again racing on your back to the bottom. We guarantee it's worth the effort, and worth coming back for time and time again!
Play Arena
Billy Beez is themed around the adventures of Billy Beez and his family and friends of fellow rainforest creatures. Inside our rainforest kids will find a variety of play activities in addition to slides, from trampolines to obstacle courses to climbing walls. The entire play structure is built as a soft-play environment to ensure safety goes hand in hand with fun.
Sport Court
Join in a fun and competitive game of basketball, soccer of dodgeball inside our soft-surface sport court. A great space four training and really working up a good, healthy sweat. Our trained Play Attendants supervise play to ensure fairness and safety.
Birthday Parties
There's no better place to gather and have fun or to celebrate a special occasion than Billy Beez. We can accommodate birthday parties, religious celebrations, school group outings, sports parties for children or adults, corporate team building and more.
Special Events
Our two large party rooms can each hold up to 50 guests, or up to 100 when combined as one room. Leave everything up to us. We will plan, cater and coordinate your event. Contact us today to speak with a Party Coordinator.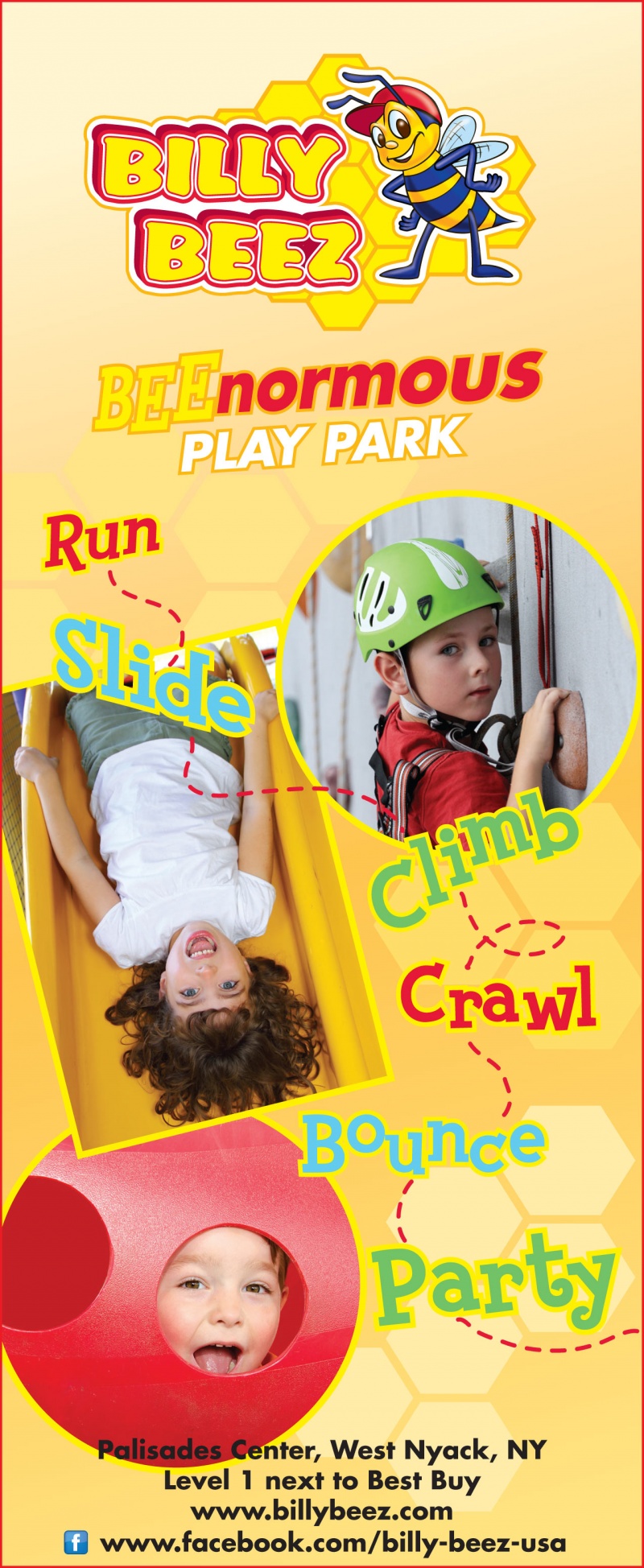 Want to learn more about this business? Send them a direct inquiry.
HOLIDAY CAMPS
Our 26,000-sq.-ft., colorful, indoor playground features giant play structures, built around a maze of dizzyingly high and wildly twisting slides. There are dozens of activities that encourage physical, mental, and social development through play…all with no video games or TVs! Open Christmas and New Year's day, we will be offering our "Kids Only Club" during the holiday break so you can leave your kids supervised while you shop! E-mail Cynthia at [email protected] for details.
Read More About Billy Beez
Nov. 14-16 Weekend Highlights by NYMetroParents

Oct. 31-Nov. 2 Weekend Highlights by NYMetroParents

Oct. 3-5 Weekend Highlights by NYMetroParents

Sept. 26-28 Weekend Highlights by NYMetroParents

Sept. 19-21 Weekend Highlights by NYMetroParents

Sept. 5-7 Weekend Highlights by NYMetroParents

Billy Beez Offers Date Night Drop-Off Program
Billy Beez, a Rockland County indoor play space, is now offering its Date Night drop-off program on Friday and Saturday nights. The facility will also offer an after-school program this fall and a soccer program for kids ages 3-6.
Family Play Space Opens at the Palisades Center
Indoor family play space Billy Beeze will open in the Palisades Center this fall. The family activity center features large rainbow wave slides, over-sized trampolines, soccer, basketball, and dodgeball courts, and a climbing wall that is safe for all ages.