Camp Ramaquois Pronounced Rama-Koy our camp name is derived from the Ramapo Mountains, which surround our campus, and the Iroquois tribe, who once inhabited these grounds. is a place where children feel physically and emotionally safe. We strive to create a unique environment where children feel a sense of belonging, learn life-long skills, have opportunities for leadership, and forge lasting relationships with their peers and their Counselors 70 % are former campers, and 75% return each year.. All this is done in a magical environment that revolves around one word: FUN!
We hope every camper leaves our camp believing in themselves and feeling a strong sense of accomplishment. We hope our campers leave Ramaquois standing a little taller, feeling more self-confident, communicating more effectively with their peers, learning to make meaningful friendships, holding dear to their Ramaquois memories and respecting the value of others.
"Our kids come off the bus excited and happy and telling us great stories of what they did at camp." - Ramaquois Parent
Choosing the right day camp is a very important decision. Please call to schedule a personal tour so that we can answer all of your individual questions. If you would like more information, please use this form to Request Information and find out why so many parents choose Ramaquois for their children.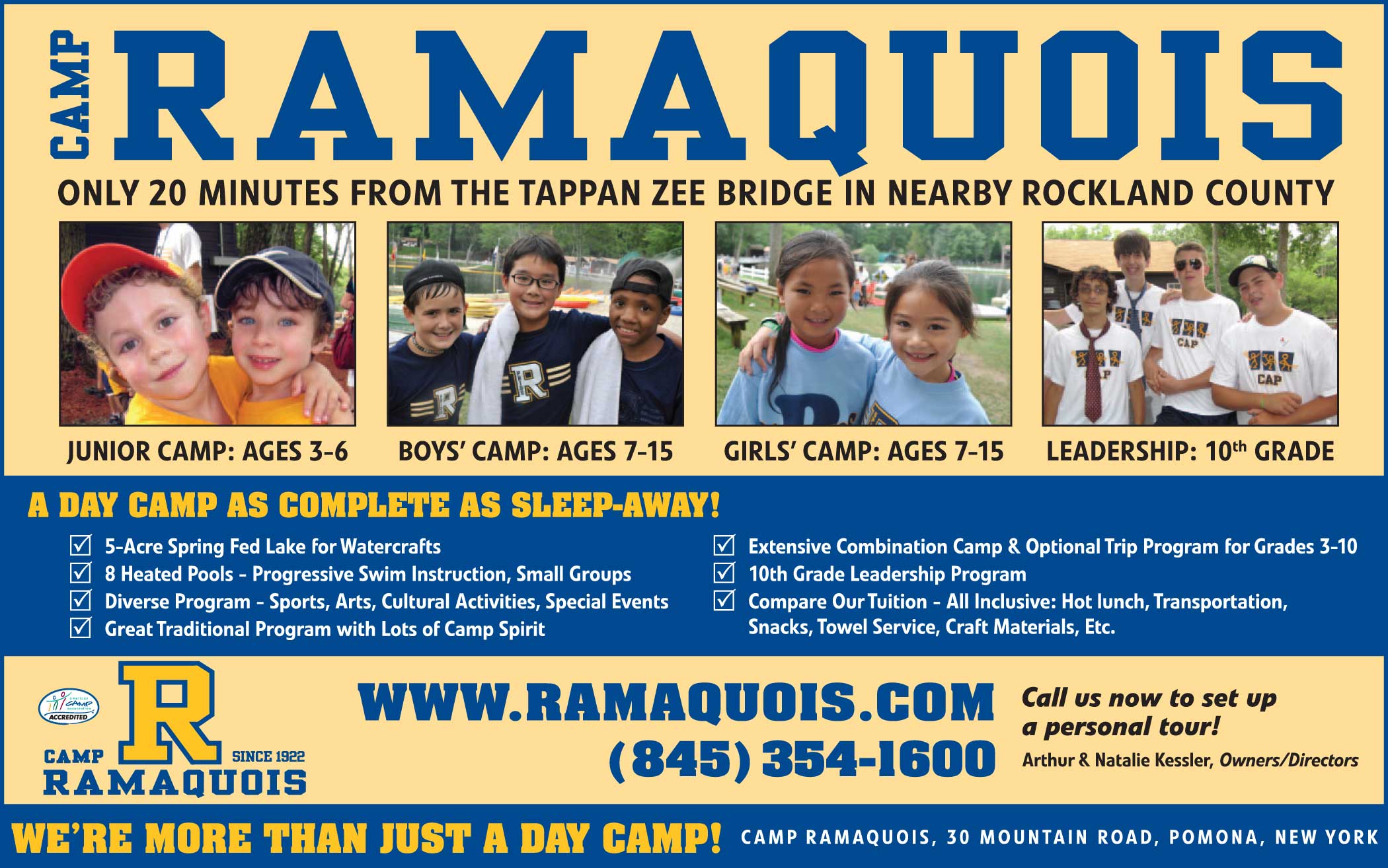 Want to learn more about this business? Send them a direct inquiry.
CAMPS-TRADITIONAL
Camp Ramaquois is "a day camp as complete as sleepaway camp," situated on 44 acres in Rockland County. From adventurous activities to creative arts and athletic activities, boys and girls ages 3-15 experience a traditional day camp program filled with a variety of stimulating activities. Facilities include a 5-acre crystalline lake, eight heated swimming pools, a splash park, tennis, basketball and volleyball courts, hockey rinks, ball fields, soccer fields, a petting zoo, special events, and more. Many air-conditioned buildings. Visit us on our website or call for a personal tour.

Arthur Kessler has spent his entire professional life having a tremendous impact on the camping industry. Arthur's camping experience developed from camper to owner and director of Tunis Lake and now Ramaquois. Throughout the years, Arthur has been known for setting the standards in camping. In 2005, he, along with his wife, received the highest honor as inductees to the Legends of Camping.
Read More About Camp Ramaquois
Summer Activities in Rockland County, NY
Searching for great summer activities for kids in Rockland County, NY? Use our guide to find kids classes, Rockland summer camps, summer programs, activities near Rockland County, and family excursions close by. Find all of your summer activities from Nyack to Suffern in Rockland County.
Summer Activities in Westchester County, NY
Do you need great summer activities for kids in Westchester County, NY? Use our guide to find kids classes, Westchester summer camps, summer programs, activities near Westchester County, and family excursions close by. Summer activities in Westchester are at your fingertips.
The Nanny Dilemma
It's summer -- the sun's out, the kids are in camp, and your childcare needs have shifted dramatically. What's a family on a budget, with a nanny or caregiver they love, to do?