Through a curriculum of academically challenging lessons, infused by the arts and informed by a unique understanding of a child's developmental needs -- the hallmark of Waldorf education -- Green Meadow Waldorf School educates its students to become well-rounded individuals capable of bringing purpose and direction to their lives, ready to think on their own, stand for themselves and act with empathy toward others.
At Green Meadow, students' capacities for learning are awakened and enriched by an education brought to life through storytelling, movement, recitation, dramatic acting, music, drawing and painting. An emphasis on oral expression in all subjects enables our students to acquire confident public speaking skills. Our carefully constructed curriculum includes a comprehensive humanities program based on the great literature and the history and culture of world civilizations. Green Meadow's excellent math program creates proficiency in arithmetic, geometry, algebra, trigonometry and calculus. Science offerings in biology, earth sciences, chemistry and physics contain a strong empirical component, allowing students to learn scientific principles through first-hand experience and observation.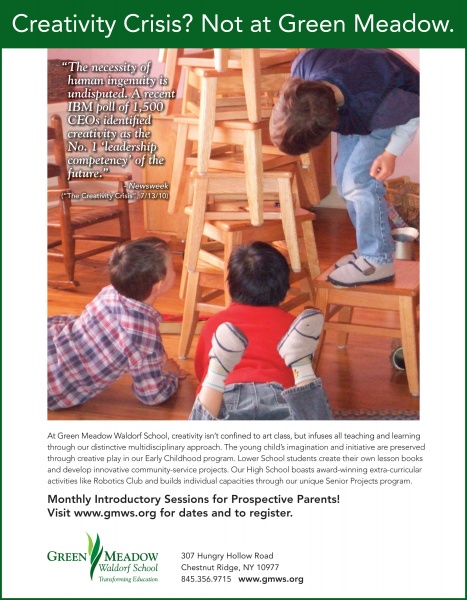 Want to learn more about this business? Send them a direct inquiry.
EDU - PRIVATE SCHOOLS
Green Meadow Waldorf School in Chestnut Ridge offers Parent & Child classes for babies and toddlers up to age 3, serves children from nursery-12th grade, and also runs popular summer programs. Founded in 1950, we are one of the oldest, largest Waldorf schools in the U.S., with about 350 students. Green Meadow students go on to top colleges, fulfilling careers, and are known for their resilience and creativity. Visit gmws.org to see how we are transforming education.
Read More About Green Meadow Waldorf School
Waldorf School Welcomes Charles Andrade for Painting Workshop
Master Lazurist Charles Andrade will be hosting his second workshop at Green Meadow Waldorf School in Chestnut Ridge. In this six-day workshop, participants will learn how to paint in the Lazure technique and help put the finishing touches on Rose Hall in the school's new Arts Building.
Green Meadow Waldorf School Opens Early Childhood Center in Tarrytown NY
Green Meadow Waldorf School in Chestnut Ridge will open a satellite Early Childhood Center in Tarrytown, New York, in September, bringing its preschool and kindergarten curriculum to Westchester County.