35 years of experience has given us the knowledge of how to teach your children best. The secret is a balanced exercise program combined with leadership training and character building activities so that your child will be more successful at home and out in the real world.
Our traditional Martial arts programs are divided up into 3 categories, Little Tigers, Children, and Teen/Adult. Registration is ongoing, so it's never too late to get started. We also offer an Afterschool Program which includes transportation, as well as Summer Camp.

Little Little Tigers (3, 4 and young 5 year olds)
In our Little Tiger class, we will introduce our youngest students to stretching, strengthening and coordination exercises. Children will learn essential and age-appropriate Taekwondo techniques in a relaxed, fun and caring environment, tailored to prepare them for a more structured Children's Program by age 5 or 6.

Children
The perfect class for your elementary school children. This program teaches the extended Taekwondo curriculum in a fun and dynamic class designed to motivate your children to learn and excel while they are having fun.

Teens and Adults
For teens and adults, Taekwondo offers one of the most complete and vigorous workouts available with the benefit of learning the most powerful martial art. Lose weight, release stresss, meat positive people and unleash your hidden potential.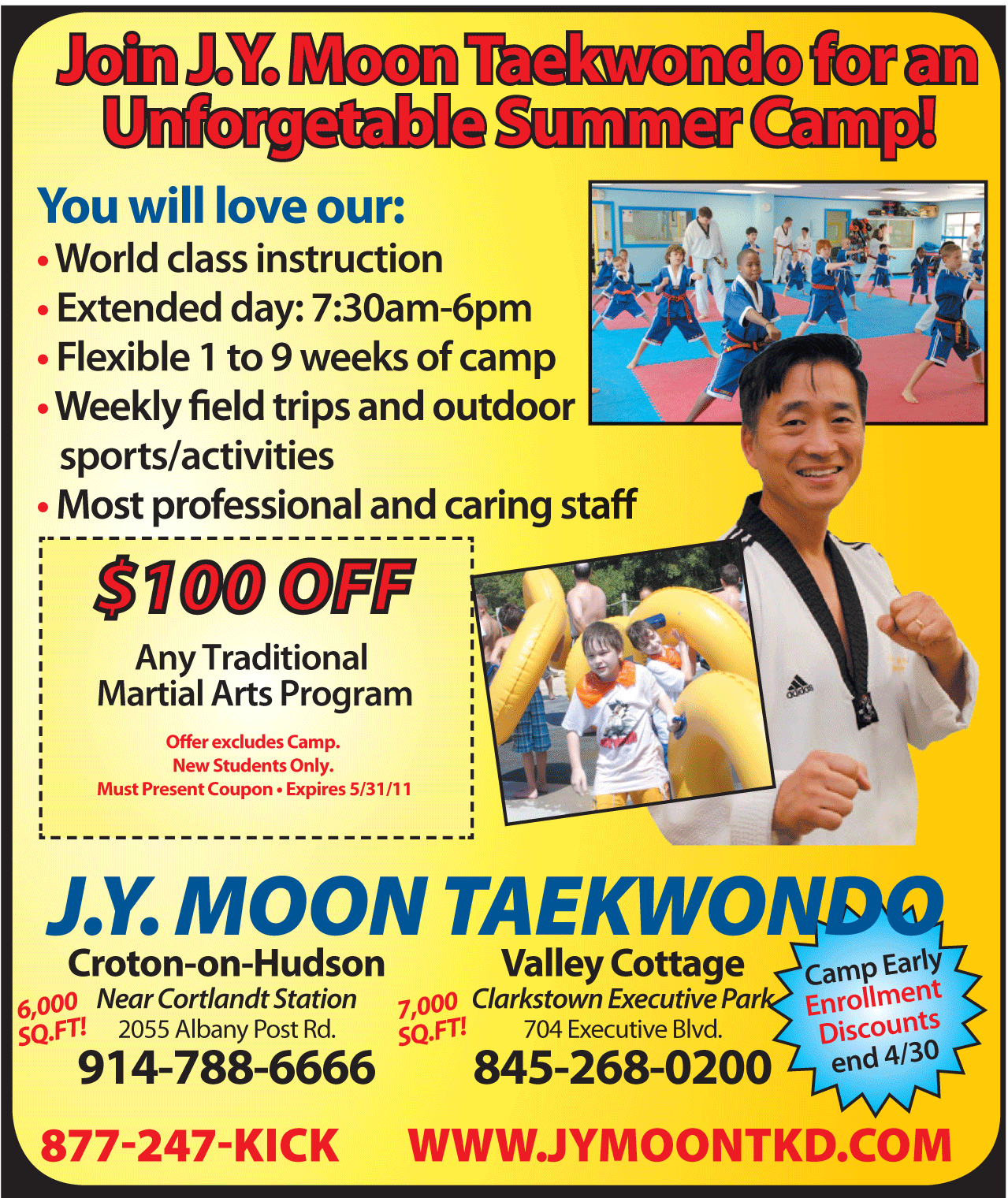 Want to learn more about this business? Send them a direct inquiry.
CAMPS-SPECIALTY
If you are planning an unforgettable summer, you have to try J.Y. Moon Taekwondo Summer Camp. Our summer camp will expose your children to world-class martial arts instruction, combined with fun field trips, recreational swimming, and outdoor sports and play. Whether you need 1 or 9 weeks of summer camp, with extended hours from 7:30am to 6pm, our summer camp is the best investment in your children's education.

Mr. Ji Y. Moon, an eighth dan Taekwondo grandmaster with an MA from Columbia University and an MBA from NYU, has dedicated all of his adult life to helping children and adults improve their lives through the practice of the martial arts. Mr. Moon and his staff have brought to Rockland County an exciting and innovative summer camp, packed with learning and fun activities. Their full day summer camp offers a world class martial arts curriculum coupled with unforgettable recreational activities and field trips.
UPDATE YOUR MICROSITE