Make your child's birthday party or event special and unforgettable with a show of singing, dancing, giggles and wiggles with Matty Roxx Music & Entertainment. With Matty Roxx you will get a high energy, interactive, musical celebration that includes a rockin' guitar sing-a-long, bubbles, bubbles, bubbles, musical games, dancing, movement, props, musical instruments and MORE!
Party packages are available from a simple musical birthday celebration to a full themed party package. All Matty Roxx parties are led by Matty Roxx himself, an experienced, certified educator who decided that there should be a way for kids to hear and interact with live, modern, cool kids' music.
As a parent of two wonderful children, he felt that the local music classes he was attending with his kids left much to be desired. He decided to create something fresh, new and exciting. A Matty Roxx performance is not just an event - it's an experience for kids and grownups to share together!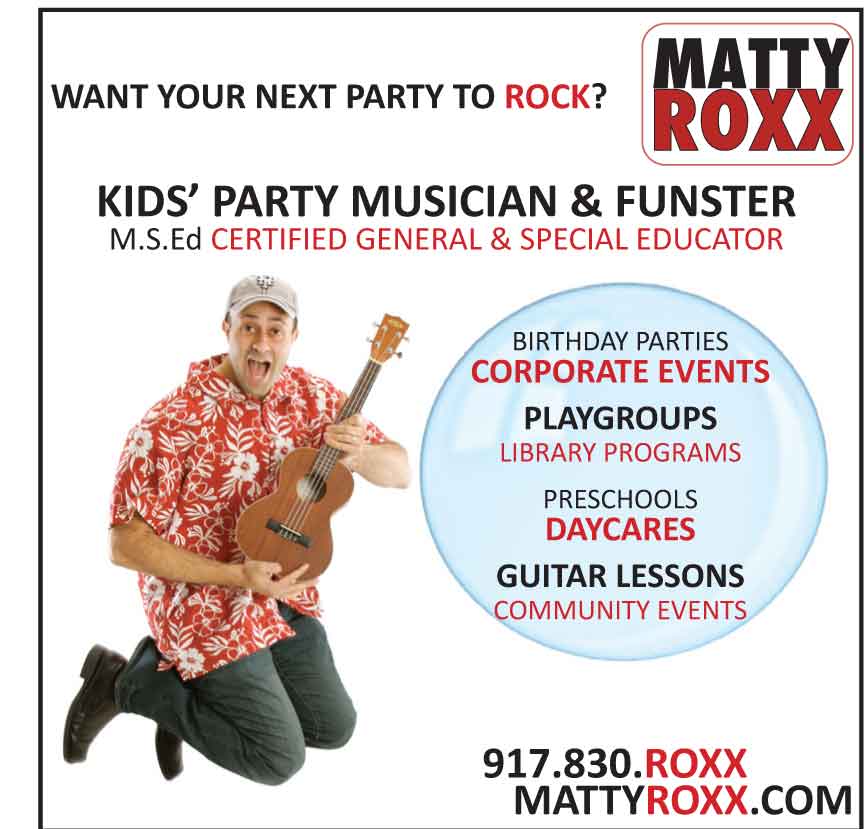 Want to learn more about this business? Send them a direct inquiry.
BIRTHDAY PARTIES
Make your child's birthday party special and unforgettable with a show of singing, dancing, giggles, and wiggles, with Matty Roxx, kids' musician and funster. A Matty Roxx party includes an engaging, 45-minute musical performance, plenty of audience participation, scarves, shakers, instruments, bubble machine, Matty Roxx egg shakers (one for each child to take home), and a Matty Roxx T-shirt for the birthday child. For more about Matty Roxx, visit mattyroxx.com, call 917-830-7699, or email matty@mattyroxx.com to reserve your party. Subject to availability.
Read More About MATTY ROXX
11 Fun Things to Do in Rockland this March
Our roundup of fun and low-cost things to do with kids in Rockland County, NY, this March includes the Ringling Bros. circus, YouthFest 2013, maple sugaring, and one big St. Patrick's Day parade in Chestnut Ridge, Northvale, Pearl River, Spring Valley, Suffern, West Nyack, and nearby in East Rutherford, Engelwood, and Tenafly, New Jersey.