Finally an alternative to the ER when your pediatrician's office is closed

We are your local emergency care practice,
when your pediatrician's office is closed.
OPEN 365 DAYS A YEAR
Monday thru Friday: 5pm - Midnight
Weekends/Holidays: Noon - Midnight
Large New Space
Staffed by emergency room pediatricians
On-site digital X-Ray and lab for immediate results
Treatment of illness and injuries such as asthma, fever, upset stomach, infections, fractures, etc.
Quick Tests: Streptococcus, respiratory syncytial virus(RSV), mono, flu, etc.
Spacious facilities
Child-friendly atmosphere
Short wait times
We accept most insurance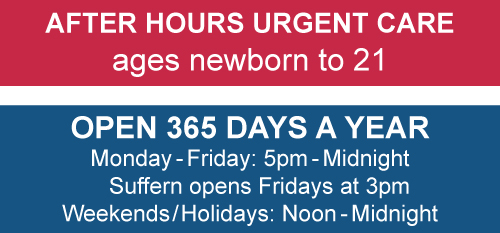 Moonlight Pediatrics is owned and operated by Dr. Giuseppina Benincasa-Feingold. Dr. Feingold has specialized training in pediatrics and pediatric emergency care. For 12 years, she was in charge of a busy inner city ER in NYC. She was also Assistant Director of Pediatrics at Nyack Hospital.

As a mother of 5 children with a hectic work schedule, Dr. Feingold recognized the need for a pediatric emergency room, with after-hours care in Rockland County, and today she is proud to offer an after-hours facility with extended hours seven days a week. She and her team look forward to assist you and your family at Moonlight Pediatrics.

Please call - or just come.
Want to learn more about this business? Send them a direct inquiry.
SPECIAL PARENT - DOCTORS & MEDICAL PROVIDERS
We are open 365 days a year until 12am, treating a broad array of illnesses and injuries that until now, required children—and their parents—to brave the long waits and intimidating atmosphere of a hospital emergency room, or suffer until the morning. Our doctors and nurses are specially trained to handle pediatric emergencies and are experts in managing pediatric illness and injury. We have digital X-rays and a lab on-site. Most commercial insurances accepted.
MEET THE HEALTH CARE PROFESSIONAL

Drs. David and Jo Feingold are the husband-and-wife team that owns and operates Moonlight Pediatrics of Rockland. These board-certified physicians are specially trained in pediatrics and pediatric emergency medicine. After 12 years running a busy, inner city ER, they wanted to offer their community a high level of after-hours pediatric urgent care not previously available. Moonlight Pediatrics is open 365 days a year until midnight, treating a broad array of illnesses and injuries. Now located in a larger, family-friendly space to better serve their patients.