Active Kidz, the only facility on the East Coast to offer Laser Frenzy, a version of laser tag that features a maze, has moved to a new, larger facility on Long Island.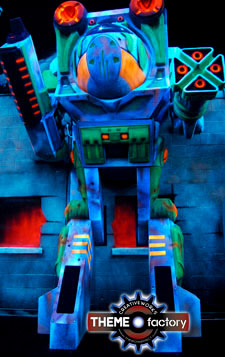 In March, Active Kidz moved from East Hills to Jericho, boasting brand new facilities and attractions that range from laser tag to a Cannonball Air Blast where kids can launch nerf balls at interactive targets. In addition to 20,000 square feet of brand new arcade games and obstacle courses, Active Kidz is the only facility on the east coast to feature the new Laser Frenzy game, where each player must use strategy and balance to avoid being hit by laser beams.
According to Lise and Andrew Oelbaum, owners of Active Kidz, it is a facility unlike any other because of its accessibility to all ages. While toddlers play in the pirate-themed preschool area, older kids can climb the twenty-foot high rock-climbing wall or navigate the four-level Adventure Maze. Active Kidz features a weekly special for teenagers and college students on Friday nights -- $20 for unlimited play. According to the Oelbaums, parents and children alike consider Active Kidz a perfect location for birthday parties, work events, team building activities, bar and bat mitzvahs, and many more.
Beginning in October, Active Kidz is sponsoring a new special throughout the week, 11am-2pm daily. For $15, kids can have access to a four-level adventure maze, toddler center, and 30 minutes in the inflatable fun zone.
Active Kidz is located at 200 Robbins Lane in Jericho. For more information, call 516-621-6600 or visit www.activekidzlongisland.com.