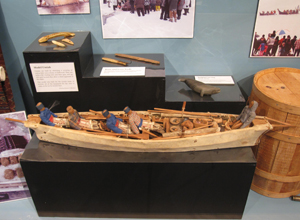 While the word "museum" might not initially set your tot's eyes (or yours, for that matter) aglow with excitement, you both might be surprised at how unstuffy a day at the museum can be.
Check out the locations below in Suffolk County, Long Island, with exhibits that cater to the younger crowd, which means they're specially designed to be interactive, colorful, and fun, as well as educational. Some may build on your child's school curriculum while others might introduce something totally new, but each specializes in creating an environment that brings learning and playing together for children-and, of course, their grown-ups are welcome too!
Also see our complete 2011 Guide to Children's Museum Exhibits.
Children's Maritime Museum at Port Jefferson
101 East Broadway, Port Jefferson
631-331-3277
Open 1-5pm Saturday and Sunday. $5 general admission.
Learn about Long Island's natural ecosystem and maritime heritage through several permanent installations:
Navigation Station and Virtual Submarine are two interactive computer programs that allow visitors to virtually navigate the Port Jefferson harbor (both above and below water) while learning more about the natural attributes and history of the area.
Children's Museum of the East End
376 Bridgehampton/Sag Harbor Turnpike, Bridgehampton
631-537-8250
Open Monday and Wednesday-Saturday 9am-5pm; Sunday 10am-5pm. $9; free children under 1. Caters to children ages 2-12.
Fun to be Fit! Building Healthy Bodies & Minds: A temporary installation for the fall and winter months designed to promote wellness and physical fitness, this exhibit offers an indoor active play space with activities meant to nurture kids' cognitive and physical development.
Cold Spring Harbor Whaling Museum
279 Main Street, Cold Spring Harbor
631-367-3418
Open Tuesday-Sunday 11am-5pm. $6; $5 seniors and students; free children under 5.
From Prey to Protection: For thousands of years, mankind has hunted whales. Fifty years ago, public opinion began to change, and commercial whaling came to a halt. What Happened? Why? Explore the events behind this complete turnabout in public attitude through artifacts and historic film. Open through Labor Day 2011.
6038 Sound Avenue, Riverhead
631-298-5292
The Hallockville farm grounds feature 19 historic houses, barns, and outbuildings, including the mid-18th century Hallock Homestead. Visitors can experience farming on Long Island during that time period and meet Hallockville's friendly cows, sheep, and chickens.
Self-guided walking tours of the grounds, including 28 acres of buildings, gardens, and collections, can be done from 11am-4pm on weekdays throughout the year.
2 Prime Avenue, Huntington
631-351-3250
Open Wednesday-Friday 10am-4pm; Saturday and Sunday 11am-5pm. $6 ($8 non-residents); $4 seniors and students ($6 non-resident seniors and $5 non-resident students); free children under 10.
Identity Crisis: Authenticity, Attribution and Appropriation: Explores issues relating to the artistic use of other artists' styles and images. Old Master and 19th-century works from The Heckscher Museum Permanent Collection provide a framework for connoisseurship issues. Open through March 27.
Long Island's Best: Young Artists at The Heckscher Museum: The 15th annual installation of this exhibit is a juried display of works by art students in grades 9-12 from more than 50 public and private schools throughout Nassau and Suffolk Counties. Open April 9 through May 1.
Suffolk County Vanderbilt Museum and Planetarium
180 Little Neck Road, Centerport
631-854-5555
The museum complex includes a Gold Coast-era mansion, marine museum, natural history habitats, seaplane hangar, boathouse, and numerous other estate features. In January and February, the museum is open Tuesday and Friday 12-4pm; Saturday 11am-5pm; and Sunday 12-5pm. The planetarium is open Friday with shows at 8pm, 9pm, and 10pm; Saturday with shows hourly from 11am-4pm and 7-10pm; and Sunday with shows hourly from 12-4pm. During the winter school break, February 19-27, the museum will be open daily from 11am-5pm, with planetarium shows from 11am-4pm. Admission: $7; $6 seniors and students; $3 children under 12. Mansion tour: $5. Planetarium show: $5; $4 students and seniors; $3 children under 12.
Tour the William K. Vanderbilt II Mansion (1910-1936), a 24-room Spanish Revival Mansion, and take a step back in time to life in the 1930s, during Long Island's Gold Coast era.
Stop by the Planetarium for a trip through the solar system or a laser show set to music.
Ever wonder how these exhibits come together, or what formula the museum's follow to find the perfect balance between learning and fun? Check out Children's Museums: Behind the Exhibits and get the answers, straight from exhibit developers in the New York metro area.