Related: trips, fire island, watch hill, wilderness, family, swimming, hiking, nature,




It's incredible how you can visit someplace relatively close to home, yet feel as if you have been transported far away. Watch Hill on Fire Island is one of these magical places, and a perfect destination for a family day trip. Part of the Fire Island National Seashore, Watch Hill is a tranquil site for beachcombing, exploring nature and much more.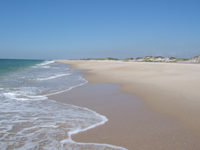 Wilderness in Suburbia
Watch Hill is located on the western edge of the Otis Pike Fire Island High Dune Wilderness, across the Great South Bay from Patchogue. It is the only federally designated wilderness area in New York State and one of the smallest at 1,363 acres. The area will likely feel vast to you, however, with majestic water views and uninterrupted open space. This is an important habitat for several threatened and endangered species.

Enjoy ocean swimming at the seasonally-lifeguarded beach, which is normally not very crowded (especially on weekdays) and is accessible by foot from the marina and the ferry dock. Collect shells (be sure they are uninhabited) and play in the surf, but please leave pets and kites at home.

Other outdoor experiences include backcountry hiking and bird watching. Nature trails lead you through protected lands (be cautious about ticks), and you can catch glimpses of barrier island wildlife (whales live in the ocean south of Fire Island, and visitors have also seen foxes and seals). The tidal marsh on the Great South Bay, especially at Watch Hill, is a good place to look for waterfowl, herons and egrets and red-winged blackbirds. Such a pristine environment offers unique stargazing opportunities as well. Campground facilities include running water, grills, showers and bathrooms. The 26 sand sites allow for two 2-man tents or one 5-man tent and must be reserved by mail. Walk-ins are welcome but cannot be guaranteed a site. The season is May 8 – Oct. 25.

Modern Comforts
Watch Hill's Visitor Center is open seasonally, and National Park Service programs are usually offered in July, August and September (such as ranger-conducted canoe tours, seaside stories and crafts for kids and evening lectures about various topics). The Pier at Watch Hill is an American restaurant with a snack bar open for lunch and dinner. A general store has various conveniences for sale, and there are restrooms and a bathhouse.

More To See
Watch Hill is close to the other attractions on Fire Island, of course. These include Sailors Haven, home to the Sunken Forest, a mature and rare maritime holly forest. Take a camera; there is an annual photograph contest every August for various age groups (starting at age 5) in various categories. (call 631-597-6183 for more information). The Fire Island Lighthouse is a popular destination; located on the western part of the seashore adjacent to Robert Moses State Park, its grounds and exhibits are open year-round (hours vary by season; until June 30, it is open daily 9:30am-4pm; July 1 through Labor Day, hours are until 5pm). You can walk to the lighthouse from the Field 5 parking lot at Robert Moses State Park (631-669-0470; www.nysparks.com).


If You Go
Where: Watch Hill on Fire Island; Ferry Terminal at 160 West Ave., Patchogue (about a two-block walk from the LIRR station). A digital map of Fire Island is available at www.nps.gov/fiis/planyourvisit/upload/FIIS_Map2_5-2006.pdf

When: Watch Hill facilities are generally open mid-May through mid-October.

How much: Ferry: $16 round trip for adults ($8.50 one way); $15 round trip for seniors ($8 one way); $10.50 round trip for children ($5.75 one way); $5.25 for dogs (round trip only). A 20 trip book of tickets is available for $140.
Contact the Davis Park Ferry Co., 631-475-1665. Boats generally run in the morning around 10am, the afternoon around 3:30pm, and sometimes a midday boat on the weekends around noon, weather permitting.
Camping: $20 per night; two-night minimum. Call 631-567-6664 for more information.

How to get there: The Watch Hill Ferry Terminal is located across from the Patchogue Railroad Station on West Avenue in Patchogue. Take Sunrise Highway; from the west, use Exit 52 South (Waverly Ave. – CR 19) and travel south on Waverly Avenue for .75 miles; bear right on Holbrook Road and follow for .4 miles; continue on West Ave./Clare Rose Blvd. and after about a half-mile, you'll see a brown sign for the Fire Island National Seashore and the Watch Hill Ferry Terminal. Turn right at the driveway for free parking.
From the east, take Exit 53 South off Sunrise Hwy. (Medford Ave. – Route 112). Take Medford Avenue south until the end, turn right on Montauk Highway and follow for about a half-mile. Turn left on West Avenue, and after about a half-mile, you'll see the brown sign for the Fire Island National Seashore and Watch Hill Ferry Terminal. Turn right at the driveway for free parking.

For more information: 631-597-3109; www.watchhillfi.com or 631-687-4750; www.nps.gov/fiis


(Photo Credit: KKMPhotos/Long Island CVB)

---
Get Your FREE Indoor Activity eGuide!
---
More Sports Articles
Wanderlust Yoga In The City Offers a One-Day Yoga, Music, and Community Event in NYC
"Roll Model" Campaign During National Bike Safety Month Helps Parents Put the Brakes on Child Bike Fatalities
Nassau County Sports Commission to Honor Hometown Heroes
Baseball Bonding
How and When to Get Your Child to Speak Up to the Coach

Be a good fellow parent and share this with a friend who would be interested
Local Sports Sponsors
See Our Sports Directory