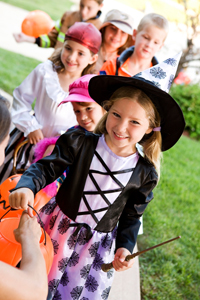 With all the Halloween events happening on Long Island in October, you can easily make it a month-long celebration. Following are a few of our favorite activities for families, from pumpkin-filled parties to spooktacular shows and frighteningly fun festivals.

Haunted Skies: Examine the origins of Halloween, an often misunderstood holiday, and learn why this ancient autumn tradition is still celebrated today. Spine tingling and certainly not for the faint of heart, Haunted Skies captures the spirit of the holiday in an enjoyable, intelligent and often "frightening" way. October 2-3, 10-11, 16-17, 23-24, 30. 4pm and 8pm. Recommended for tweens, teens, and adults. $12; $6 children 12 and under. Vanderbilt Museum and Planetarium, 180 Little Neck Road, Centerport. 631-854-5579. www.vanderbiltmuseum.org.
Halloween Scene: Design your own chocolate Halloween scene centerpiece including a ghost, pumpkin, and RIP tombstone. October 4 at 6:30pm. Tweens. FREE. Hauppauge Public Library, 601 Veterans Memorial Highway, Hauppage. 631-979-1600. http://hauppauge.suffolk.lib.ny.us.
"The Legend of Sleepy Hollow": Meet the new schoolmaster, Ichabod Crane, and the town's strongest farmer, Brom Bones, as they compete for the affection of Mistress Katrina Van Tassel. In this interactive play, children can participate in lessons with the school children, become farmers with Brom, sing with the Van Tassel family at their annual frolic, tell ghost stories around the fire with the townspeople, and learn the real story behind the legend of the headless horseman. October 9, 16, 23, 30. 3pm. $10. Vanderbilt Carriage House, Suffolk County Vanderbilt Museum, 180 Little Neck Road, Centerport. 516-293-0674. www.arenaplayers.org.
"Annabelle Broom: The Unhappy Witch": When Annabelle happens upon two children in the forest and agrees to help them get safely home, the rest of the sisterhood tries to stop her, and it takes an unconventional witch like Annabelle to save them all. October 17, 23 (additional show at 2pm), 24, 30 (additional show at 2pm), 31. 11am. $9. CM Performing Arts Center, 931 Montauk Highway, Oakdale. 631-218-2810. www.cmpac.com.
Pooh's Halloween Adventure: Follow along as Winnie the Pooh celebrates Halloween. October 23 and 30 at 1pm. $8. Airport Playhouse, 218 Knickerbocker Avenue. 631-589-7588. www.airportplayhouse.com.
Movie Time: "It's the Great Pumpkin, Charlie Brown": See the Peanuts' classic, enjoy a snack, and get in the Halloween spirit. October 25 at 3:30pm. FREE. Hampton Bays Public Library, 52 Ponquogue Avenue, Hampton Bays. 631-728-6241.
Led by the Westhampton Beach High School Marching Band, hundreds of community children dress up in their favorite costumes for the Halloween Parade. The annual "Trick or Treat" follows. October 29 at 3:15pm. FREE. Westhampton Beach Elementary School, Mill Road to Main Street, Westhampton Beach. 631-288-3337. www.whbcc.org.
Halloween Boo Bounce: Play at a special open bounce session and receive a BounceU trick or treat bag. Reservations are required. October 29, check website for times. $12.95. BounceU Farmingdale, 101 Carolyn Boulevard. 631-777-5867. www.bounceu.com.
Ghost Stories & Legends of Fire Island: Listen to tales of eerie happenings along the Barrier Beach. Dress warmly; bring blankets and flashlights. October 30 at 7pm. Fire Island Lighthouse, Robert Moses State Park parking field 5, Fire Island. 631-661-4876. www.fireislandlighthouse.com.
Halloween Extravaganza: Celebrate Halloween with fun on the inflatables and other activities. October 30 at 7pm. $9.95 in advance; $14.95 at the door. Jump Parties, 151 Dominion Boulevard, Ronkonkoma. 631-585-5867. www.jumpparties.com.
Halloween Spooktacular: See the haunted hayride come alive. Enjoy fall farm activities and live music. October 31 at 12pm. $6; $5 children. Benner's Farm, 56 Gnarled Hollow Road, Setauket. 631-689-8172. www.bennersfarm.com.
Come in costume for the 30th Annual Halloween Festival. Trick-or-treat in the shops, free mini pumpkins, a bean bag toss, photo boards, a potato sack race, a spider ring toss, and more. Plus, meet Walkie Bear from WALK-FM radio, see a performance by Spotlight Dance Academy, participate in the children's parade with Monster Merlin, and compete for cash prizes at the scarecrow competition. October 31 at 2pm. All ages. FREE. Stony Brook Village Center, Main Street on the Harbor, Stony Brook. 631-751-2244. www.wmho.org.
Halloween Family Fun Day includes trick-or-treating, pumpkin painting, crafts, and museum tours. Musical storyteller Leonora Knight will perform her interactive Halloween Show. October 31 at 12pm. $9; $4 children 6-17; FREE children under 5. The Long Island Museum, 1200 Route 25A, Stony Brook. 631-751-0066. www.longislandmuseum.org.
Also see our roundup of Halloween Articles, including crafts, recipes, advice, and more events in the New York metro area (like pumpkin picking!)