Check out some great family and children's craft activities scheduled this March at the Cold Spring Harbor Whaling Museum on Long Island.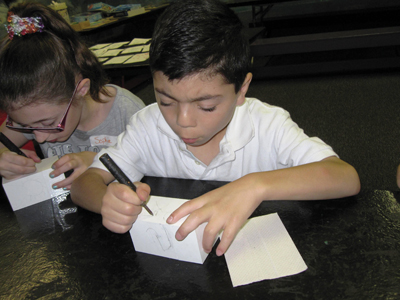 Discover the rich history behind Long Island's once-thriving whaling industry and subsequent whaling preservation efforts at the Cold Spring Harbor Whaling Museum. The museum, which details the region's whaling and maritime past through artifacts and documents, teaches people of all ages using everything from ship logs and journals to a 19th-century whaleboat complete with its original gear. Open to the public since 1942, the museum also boasts a large maritime art and scrimshaw collection, whaling- and maritime-themed films such as kids' favorite Free Willy, and new and ever-evolving exhibits.
From Prey to Protection, running through Labor Day, is one of the museum's current exhibits that details the shift in public opinion from whales as a profitable commodity to whales as a protectable species. To celebrate the Craft and Hobby Association's National Craft Month, the museum will be hosting a variety of craft workshops for kids ages 5-12 every Sunday. Kids can make new paper from recycled newspapers, craft a scrimshaw keychain, decorate their own yo-yo, or construct a ship in an empty pasta jar bottle. Craft Month was designed to foster a love of crafting in people of all ages and to promote feelings of accomplishment and increased self-esteem.
The Whaling Museum provides numerous school, camp, and Cub and Girl Scouts outreach programs that teach children through exhibits, tours, and crafts. Whether the lesson involves delving into scientific concepts, historical facts, or artistic methods, the museum offers fun activities and educational programming on each subject. In the "Sink or Float" school program for kids pre-K to grade three, kids learn about density and how boats stay afloat. The "Crystal Clear" outreach program for schools, afterschool programs, libraries, and daycare teaches kids about the minerals found in the ocean. Girl Scouts can earn badges by building beluga, orca, or humpback whale puppets or by learning about oil spills, trying to clean one up, painting with oil, and testing the oil content of plant seeds. Certain programs at the museum also afford children the opportunity to spend the night for a pizza dinner, numerous crafts, and a movie.
Details
Where: Cold Spring Harbor Whaling Museum, 279 Main Street, Cold Spring Harbor
When: Open year-round Tuesday-Sunday 11am-5pm. Sunday craft workshops throughout March at 2pm
Admission: $6; $5 ages 5-18; FREE kids under 5
For more information: 631-367-3418 or www.cshwhalingmuseum.org
Also see: March 2011 Calendar Highlights: Family Events in Suffolk County, Long Island
Our Online Calendar, for even more family activities on Long Island and in the New York metro area