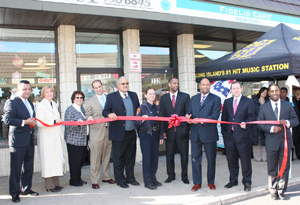 Fidelis Care recently opened its doors to those in need of affordable health insurance in Suffolk County, NY. Already established in Westbury at 180 Post Avenue, representatives are now available in the new Patchogue office to assist people interested in applying for free or low-cost health care or to simply answer questions. Several child and adult programs are available.
Rupert Brady, vice president of marketing, says the company's new location presents the opportunity for more visibility in the Patchogue community. "It's an informational place for people, in regards to government programs, to see what options they have," Brady says. "Our focus has always been a grassroots approach to the community - going to wherever the people are and providing education and options."
Fidelis is the largest government programs-based health insurance company in New York State and serves 675,000 members in 58 counties.
Fidelis of Patchogue, located at 232 East Main Street, is open Monday through Friday 8:30am to 6pm and Saturday from 9am to 1pm. Call 1-888-FIDELIS (3547) or visit www.fideliscare.org.
Also see: Our Health Resource Guide for Long Island and the New York Metro Area